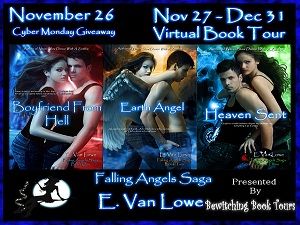 Thanks to Bewitching Book Tours for hosting this blog tour. Let's hear from E Van Lowe, author of The Falling Angels Saga.
*****************************
Use Humor To Distinguish Your Voice
One of the more gratifying things I hear about my writing is that it's funny. It's gratifying because I decided early on to use humor to distinguish myself from other YA writers in my genre. It seems to have worked because I regularly get tweets and emails from fans who have read one of my books and can't wait to read another. If you're a fairly new author reading this, I can tell you first hand that adding humor to your work can help distinguish your voice from the many other authors writing in your genre.
One of the keys to unleashing your humor is the point of view chosen for your story or characters. When Charles Schultz looked at the world through the eyes of Charlie Brown, or Lucy Van Pelt, we laughed. It was the same world we were looking at every day, but through the eyes of insecure, Charlie Brown, and extroverted, Lucy, we got a glimpse as to how funny our own world could be. Point of view allows you to comment on things that might not seem funny at first glance. It's all in the angle of attack.
Charles Schultz did it with kids, but you can do it with any of your characters. A few years ago I was starting a novel about a girl whose father was a corporate whistle blower. The family went into the witness protection program, relocating from New York City to a small community in Denver. My protagonist was faced with the unhappy situation of leaving her friends and everything familiar behind. A situation like this can be traumatic for any fifteen year-old. But I wanted to take the trauma out of it and show how resourceful my protagonist could be. So I infused in her the attitude that starting over was good:
If I have to go where nobody knows me, then why not start over as a fourteen year old? she thought. I've already made all the fourteen year old mistakes. And I will know all the work in school, since I just completed ninth grade.
This, my protagonist surmised, would give her more time for her fabulous social life.
By giving my protagonist a slightly skewed point of view, I gave her the chance to be funny. There's no humor in the story yet, but with this POV, and compounding the lie that goes with it, I make it easier to come up with humorous situations. I bet you can think of two or three funny situations you could see my character in as you read this.
If you give your stories or characters a slightly off-center POV, they will more easily lend themselves to humor. Don't shoot down the middle when you want to add humor. Go for an attitude that's off beat. How will you know if you've got the right POV? If you're smiling as you think about it, you're on the right track.
If you've read
Boyfriend From Hell
or any of the books in
The Falling Angels Saga
, you know I have a distinctive humorous voice. If you haven't read me yet, I hope you will give one of my books a try.
*****************************
About the Author
E. Van Lowe is an author, television writer, screen-writer, playwright and producer who has worked on such TV shows as "The Cosby Show," "Even Stevens," and "Homeboys In Outer Space." He has been nominated for both an Emmy and an Academy Award. His first YA Paranormal novel, "Never Slow Dance With A Zombie," was a selection of The Scholastic Book Club, and a nominee for an American Library Association Award. His Best Selling novels, "Boyfriend From Hell" and "Earth Angel," are the first two books in the Falling Angels Saga. "The Zombie Always Knocks Twice" is the first book in his Hollyweird series.
Find out more about E Van Lowe:
Website
Blog
Facebook
Boyfriend From Hell ~ Book One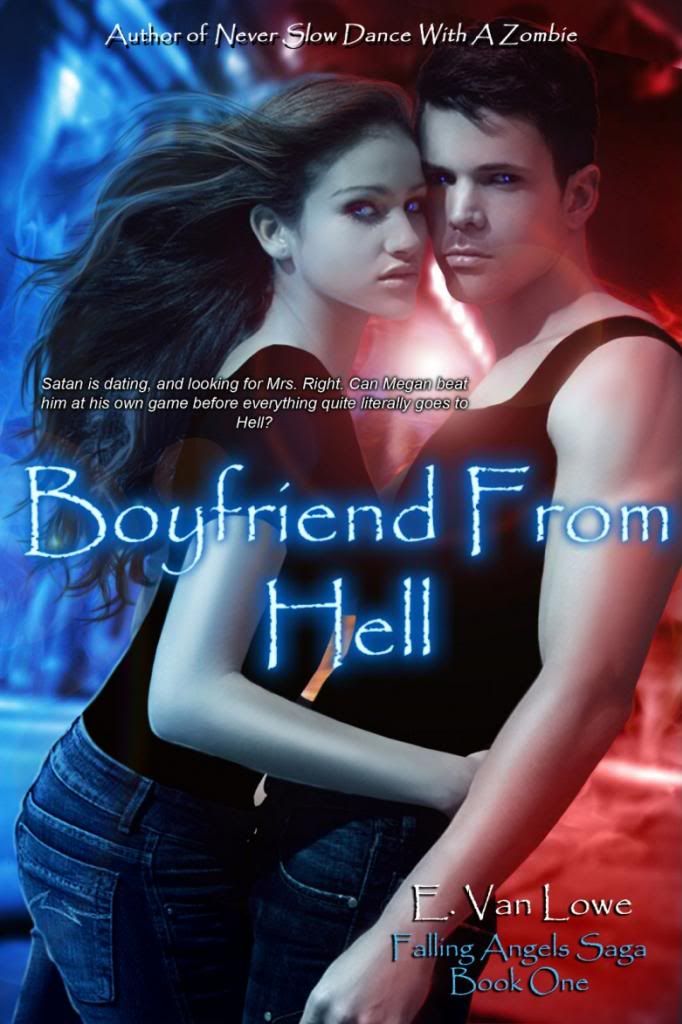 Aww, Hell No!

Fifteen year-old Megan Barnett and her single mom, Suze, have a special relationship—they are friends, close friends, who do almost everything together.

"But come on, guys, she's my mother… Can I really tell her that while we're snuggled up on the sofa watching Spider Man Three, I'm secretly undressing James Franco with my eyes? Of course not…"

The special bond takes a turn for the worse when Suze decides to start dating again. She hasn't had a man in her life since Megan's father left ten years ago.

Enter two mysterious young men, Megan's new classmate, sinfully attractive bad boy, Guy Matson, and the dangerously handsome art dealer, Armando. Before long Megan and Suze both wind up in steamy relationships. But neither of the handsome guys is quite what he seems. In fact, one of them is Satan, with his sights set on a new bride. Megan has precious little time to figure out how to stop him. If she doesn't, either Megan or Suze are quite literally going to HELL.
Earth Angel ~ Book two
Heaven Can Wait!

Just because Megan Barnett recently defeated Satan, has a fantastic new best friend, and has won the love of deliciously handsome, Guy Matson, doesn't mean her troubles are over. Far from it. For Megan doesn't realize it, but in her possession is a powerful weapon, a weapon sought after by both angels and demons and everything in between. They will do ANYTHING to get it.

In E. Van Lowe's humorous, romantic and thrilling sequel to Boyfriend From Hell, Megan winds up in a gripping life or death battle to save herself, the boy she loves, and all of mankind from unthinkable evil.
Heaven Sent ~ Book Three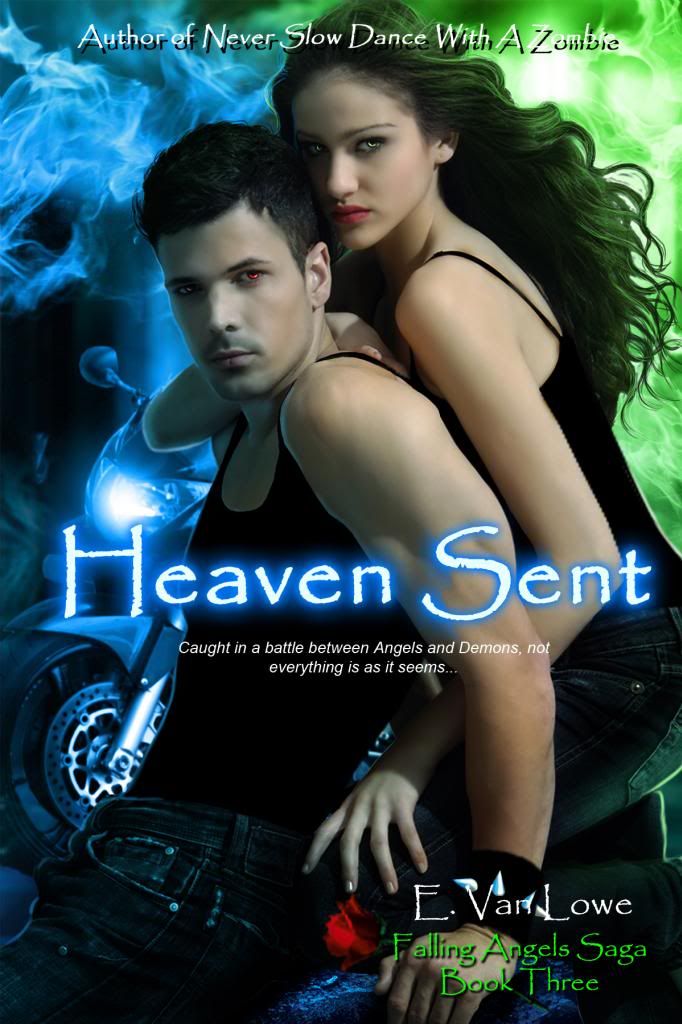 What Does It All Mean?

Readers who devoured Boyfriend From Hell and Earth Angel will be captivated by the third book in the Falling Angels Saga.

As summer break for Glendale Union high begins, heartsick Megan awaits Guy's return while struggling to control her emerging abilities. Love is in the air, but can the new loves in Megan, Maudrina, Suze and Aunt' Jaz's life be trusted? Nothing is what it seems. Meanwhile, the Satanists are set to hatch their most diabolical scheme ever, and if it comes to pass, Satan may finally win out.

Megan has precious little time to unravel the cryptic message hidden in the riddle she received at the end of Earth Angel. If she doesn't, the life of someone most dear to her will be lost forever, and Megan may yet find herself living in HELL.
***Up for grabs on this tour is a signed set of all three books in paperback! It's open to US shipping only - just enter below!***