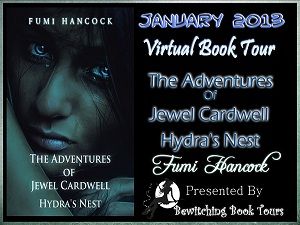 *****************************
Come, let me take you to a Land;
A Land of Deep Rich Forest;
A Land where Knowledge is our Clothing and
Unconditional Love Our Way of Life;
There is a river which flows in the Heart of this Land;
Come drink from the river of wisdom,
Our destination is Africa….. (Fumi Hancock, 1996)
As the holiday season kicks up in full gear all over the world and as I journey on with the virtual publicity tour for my newly released Young Adult Fantasy Book, The Adventures of Jewel Cardwell: Hydra's Nest; I can't help but reminisce over my experiences celebrating holidays in Africa. This great adventure called
The Adventures of Jewel Cardwell
beautifully brought back to my memory the wonderful times I'd shared with friends and family members, growing up in Africa. Armed with the desire to share this piece of me with my readers, I garnered up the courage, the enthusiasm and the commitment needed to tell the world how Africa can also be a beautiful place, even in its throes of poverty and difficulties.
As I share my humble and sincere heart with my readers, I continue to envision a world free of challenges, drama as we would often call them and desire a peaceful place where everyone can live in peace and harmony. I yearn for a place where children can move freely, live freely, eat freely and of course, never go hungry. It is my hope and desire that as I share my experiences with you; you will be moved to be a difference maker… reach out and touch someone in the most unusual and / or unexpected way.
To this effect, let me quickly share with you where my passion for this Young Adult Fantasy & Romance fiction emanated from…
~~~~~~~
(source: wordlatlas.com)
This was an important trip for me as I'd not been back to my community in over 23 years! The trip was equally important because one of my cousins, His Royal Majesty, King Emmanuel Adebayo, reigning King of Emure Ekiti Kingdom, a place tugged away in the Western region of Africa was being crowned and my father felt it was a great opportunity to reconnect with my roots.
(Picture of His Royal Majesty King Emmanuel Adebayo & Queen)
The journey was exhilarating yet filled with anxiety as I did not know what I was going to encounter. I trusted my father, packed my bags and went back to West Africa with my family. It was the most incredible journey of my life… to witness a King's coronation… no words could describe the feelings.
What was more important was the surprise which awaited me when I arrived in the community with my Tennessean friends! The community people rallied around me and reminded me of who I was… their princess who had been gone for long and was now back! I took the time to revisit my childhood boarding school and low and behold, all of my experiences at the school came rushing back.
(source: adassafoundation.org)
With all of this jubilation came social responsibility… to come back to the United States, let the world know of this region in Africa and help to make a difference in whatever little way I could.
(pictures of a classroom/school with no electricity and broke down furniture)
(Premature babies born in rural clinics with no incubators and no medical equipment)
(a child street hawking to raise money for food)
(a hungry child found on a street)
The King and his cabinet had a huge task on their hands and they knew it would require reaching out to all for assistance. It is amazing how when we reach out to give someone something that we may be lacking ourselves, how it turns around and blesses us back a thousand fold. Because of my children in Africa, my life and that of my volunteers have forever changed.
We came back home, reached out to whoever would listen to our stories and began plugging away at the needs in Africa. We hosted the King and some of his 63 cabinet members to a gala in Tennessee:
(Mayor Mike Dinwiddle, current Mayor of Spring Hill TN awarded an honorary chieftaincy title by his Royal Majesty, King Adebayo at a gala held in Franklin TN and Spring Hill declared sister city to Emure Kingdom)
To date, we currently sponsor 40 children who would ordinarily not have been able to attend school. We opened the very first state of the art library in that region ever…
With the help of some Song writers & artists in Tennessee,
Friend to an Angel
, a song honoring our African children, was debuted and used in raising funds for our programs in Africa. (Available at:
http://www.cdbaby.com/cd/theadassafoundationproje
)
Today, I celebrate all of my
African angels
with the characters my readers will encounter in
The Adventures of Jewel Cardwell: Hydra's Nest
. These vibrant and most times feisty characters are a culmination of my childhood friends as well as "those conjured in my head." These characters as well as my African babies have consistently plagued my dream and haunted my mind into bringing them alive.
Every year I would return to Africa (with my American Friends) serving the children in these communities through my non-profit organization the
Adassa Foundation
, I am reminded of the colorful ambiance and the need to share this part of the world with book lovers.
There is more work that to be done. I am constantly in need of assistance to help move our programs forward. Our next vision for this region is to build a Youth Center for Excellence where children can converge and learn rather than be in the streets roaming aimlessly. As we celebrate our holidays here in the US and all over the world, I urge you to consider joining me in putting a smile on yet another African angel's face at
www.adassafoundation.org
or support by picking up the song:
Friend to an Angel
.
"I enjoyed the story of Jewel, it was fresh and in a setting that was new to me. The descriptions made me feel as if I was there. I experienced the place right along with our Jewel. Every page was beautifully written and I was engrossed from start to finish." Review by
Sara Bree High
, Goodreads.com.
Well, mission accomplished Sara. I wanted my readers to be transported to a place where they'd never been before. I wanted them to see how other people live in other parts of the world… I wanted them to also see how people like them, who have travelled to live in Africa… how they adjust to the culture and setting. The characters though reside in Africa come from various parts of the world especially Europe. Enjoy the Behind-the-scenes pictures: (
http://www.worldoffumihancock.com/#!behindrhescenes/ckg3
)
A unique & thrilling African ambiance not familiar to many!
Lying gracefully between the Vaal River in the north and the Orange River in the south, the rolling grassland and fields of crops rising to a lovely sandstone mountain, is Milner Court, Bloemfontein, a suburb nestled in the middle of Free State, South Africa.
The Adventures of Jewel Cardwell: Hydra's Nest magically transports its readers from the rolling hills of Bloemfontein to the beautiful farmlands of Bela-bela South Africa. It is a fantasy-based coming of age story of a rebellious 17 year old teenager who (through no fault of her own) is thrust into an environment ridden with unfamiliar and unsavory demonic activities when admitted into a prep school in South Africa.
As Jewel Cardwell is relentlessly being trailed by an unapologetic family curse, she races against time to find answers before the curse wipes out all of her loved ones.
In the midst of this demonic war, she becomes entangled in a love triangle between a young rugged-looking Darwin Morton who she grew up with on Milner Court and the very wealthy and popular high school soccer team leader with the silver spoon in his mouth, Eric Broder.
TRAILER:
http://youtu.be/AZTSaChQ77E
Portions of the
proceeds made this holiday season
will be funding scholarships and the Proposed Youth Center.
Discovery Quizzes:
1) What is the Mission, the Vision and the Goal of Adassa Adumori Foundation? Clue: (a statement written in purple color)
http://www.adassafoundation.org/
2) Can you mention two ways you can help to create awareness and be a difference maker with the foundation? Clues: "
Friend to an Angel
",
The Adventures of Jewel Cardwell
, and
adassafoundation.org
.
Find the author:
Blog
Twitter
Facebook
Goodreads
Mailing List
The Adventures of Jewel Cardwell: Hydra's Nest Available Now!