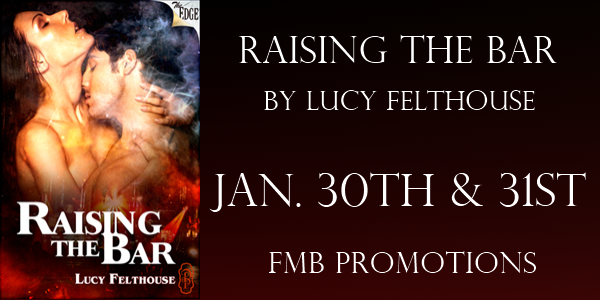 Thanks to Full Moon Bites Promotions for hosting this blog tour. Here's my review of Lucy Felthouse's
Raising the Bar
. Be sure to follow the rest of the
tour
!
*****************************
Recap:
Kayleigh takes a gap year before starting University, and decides to swear off men while traveling. Upon reaching Spain and her new coworker, Luciano, she dumps that plan. He shows her a good time and raises the bar on her sex life.
Title: Raising the Bar
Series: The Edge
Book #: N/A
Author: Lucy Felthouse
Approximate Book Length: 19 Pages
Recommended Reader Age: 18+
Sexual Content: Explicit
Thoughts:
As with many of the stories from Decadent Publishing's "The Edge" series, this story is really a tid bit story. It starts off a little abruptly, hardly able to get your bearings. Once you do though it's a hot ride. There aren't a whole lot of details about the settings, or even a great sense of the characters, but it's meant to be a short erotic read, and it succeeds there.

That being said, I'm a fan of erotic romance, and this was lacking my HEA that I crave. Plus, I read a lot of things, but this was a little on the raunchy side for my taste, despite being sexy and hot. I will say that this was the first book I've read that had squirting in it, which is actually kind of interesting.
In Conclusion:
If you're looking for a deep, thought provoking romance, this is not for you. If you're looking for a quick and dirty erotic read, look no further!
Rating:

Links:
*****************************
About the Author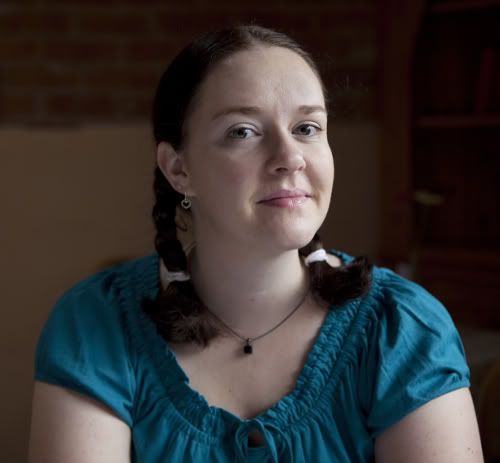 Lucy is a graduate of the University of Derby, where she studied Creative Writing. During her first year, she was dared to write an erotic story - so she did. It went down a storm and she's never looked back. Lucy has had stories published by Cleis Press, Constable and Robinson, Decadent Publishing, Ellora's Cave, Evernight Publishing, House of Erotica, Ravenous Romance, Resplendence Publishing, Sweetmeats Press and Xcite Books. She is also the editor of Uniform Behaviour, Seducing the Myth, Smut by the Sea and Smut in the City.
Find out more about Lucy on her
Website
, find her on
Facebook
, follow her on
Twitter
, find her on
Goodreads
, or get her
newsletter
.
Raising the Bar Available Now!
When Kayleigh takes a gap year before starting University, she decides she's going to stay away from guys and just concentrate on having fun and experiencing life. That means going through a lot of batteries, but she's happy and satisfied.

That is, until she gets to Spain on her travels and meets her new co-worker, Luciano. The scorching hot Spaniard soon has Kayleigh's knickers in a twist— literally—and the time they spend together seriously raises the bar for her sex life. How will any other man ever compare?
***Up for grabs on this tour is a backlist title from Decadent Publishing. Enter via the Rafflecopter below!***
a Rafflecopter giveaway