Congrats to Milly Taiden on her latest release and I'm happy to be participating in her blog tour. I'm sharing my review of Unexpectedly Mated today. Happy reading!
*****************************
Summary:
After years of lusting over Jake Wolfe, Nicole finally got a taste of the dirty-talking bad boy. During the scenting ceremony, he showed her how explosive things can be between them. But Nicole doesn't do love. She doesn't even know what love is. So how can she know if a relationship with Jake would be the right path to take?

Jake Wolfe wants Nic more than his next breath. She's curvy, mouthy and so hot his blood boils just thinking of her. But Nic's been keeping him at a distance. And Jake is tired of her games. One fateful trip to Sin City and all bets are off.

After a fun night of drinking, Nic wakes up married to Jake and with a second shifter wanting her for himself. She'll have to finally face the feelings she has or shut them out forever. Their newly formed bond will either allow her to open her heart to love or leave Jake without a mate to call his own.
Title: Unexpectedly Mated
Series: Sassy Mates
Book #: 3
Author: Milly Taiden
Approximate Book Length: 216 Pages
Recommended Reader Age: 18+
Sexual Content: Explicit
Thoughts:
I've been enjoying this series and was excited for this installment, and it was good. However, it didn't quite have the same feel the others did and I think for me it was because of Nic. While I get her backstory and therefore reasons why she is the way she is, I can't help but think that she's unreasonably naïve and hard headed. Jake has his moments as well.

The plot is predictable, but free of consequences. Nic's parents deserve worse than what they got and with the exception of one fight, there's no response from the Vegas pack regarding the Wolfes' presence and behavior.

The family and friends have always been my favorite part of this series, so I wish there was more of them. This book had a lot to do with the inner turmoil for Nic and Jake, so it was mostly their internal monologues. However, the friends and family to gang up on the pair to kick their butts in gear, which I definitely appreciated. It's adorable when they meddle and orchestrate things so they turn out right.

The ending was the best part of the book. The airport scene (can't say more about it without giving it away!) is heartwarming and fun. In this book as a whole, we get a little more from Ellie on her feelings about Caleb and we meet a new female (Nic's sister) that I think has potential in later books. While this wasn't my favorite book in the series, I still love it and look forward to more!
Bottom Line:
Unexpectedly Mated is a fun little trip to Vegas and has plenty of pack politics, yummy lovin', and wolfy action to satisfy any shifter-romance fan!
Rating:

Links:
*****************************
About the Author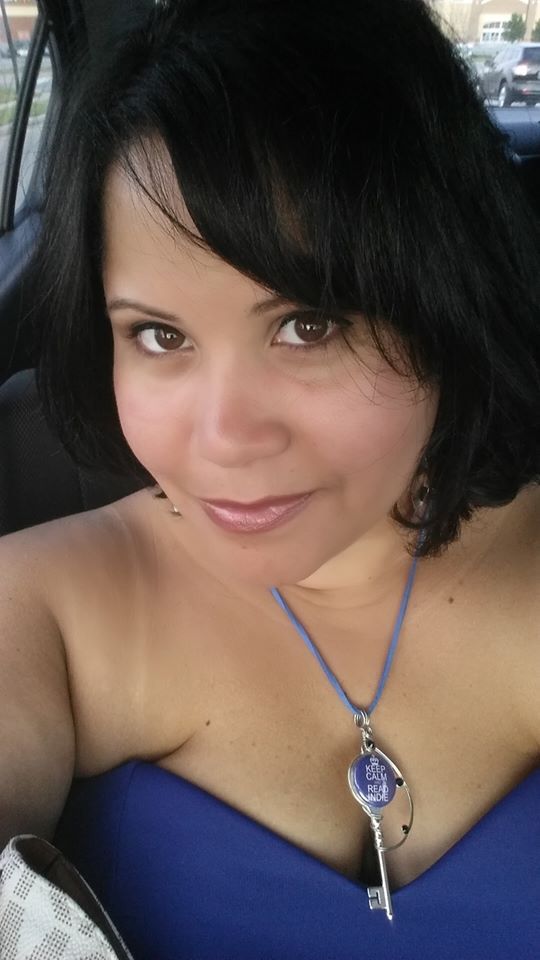 Hi! I'm Milly Taiden (AKA April Angel). I love to write sexy stories. They're usually either paranormal or contemporary with a large dose of heat. My paranormal stories can be anything from wolf-shifters (my favorites) to witches, demons and anything in between. My contemporaries are usually anything from soldiers to corporate romances.
I was born the prettiest part of the Caribbean known as the Dominican Republic. Currently, I live in New York City with my hubby, the bossy kiddo and our little dog "Needy Speedy". Don't ask.
When I'm not working some really long hours at the day job, or hanging out in the awful life-sucking invention known as Facebook, messaging my bestie in the UK or shopping with my sis Julie, then I can be found watching scary movies. But when I'm not doing that, I'm usually writing because the voices won't shut up.
I am addicted to shoe shopping, chocolate (but who isn't, right?) and Dunkin' Donuts coffee.
Come on over and visit me! I love to meet new readers!
I hope you enjoyed this book. If you did, please consider writing a review.
Like my books? Want to stay on top of all things Milly? Sign up for my
newsletter.
There's a monthly $50 GC Giveaway to all the emails signed up to get the latest news on my releases.
Find the author:
Website
Facebook
Twitter
a Rafflecopter giveaway
​