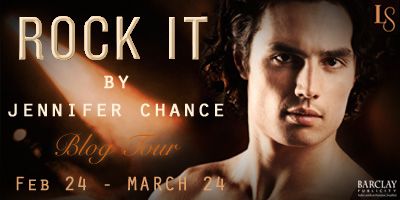 Thanks to Barclay Publicity for hosting this blog tour. I'm sharing my review of Jennifer Chance's Rock It today. Happy reading!
*****************************
Summary:
Lacey Dawes is a total pro at the talent agency where she works, and it doesn't hurt that IMO Worldwide Media represents Dante Falcone. The rock god has starred in her fantasies since she was sixteen—and remains her secret crush to this day. So when Dante picks her to be the interim manager on his Dream It tour, Lacey can't believe her luck. Handling Dante is sure to be the most exquisite, spine-tingling, nerve-wracking mix of business and pleasure ever.

Although Dante is grateful for the adoring fans who scream for one more of his full-throttle, soul-searing songs, being surrounded by a cadre of corporate types backstage is wearing thin. Then Lacey shows up. Yeah, she's organized, smart, quick to get him what he wants before he knows he wants it—but Dante senses there's something else going on with sweet, sexy Lacey. One kiss tells him what that "something" might be . . . and makes him hungry for more.
Title: Rock It
Series: Rule Breakers
Book #: 1
Author: Jennifer Chance
Approximate Book Length: 213 Pages
Recommended Reader Age: 18+
Sexual Content: Moderate
Thoughts:
This started out a little rocky, got interesting, and ended in sweetness. I didn't know how I felt about Dante in the beginning, and Lacey's fangirl persona was a little obnoxious to me frankly. She waffles frequently between that persona and her professional mask. While part of the story, it made me want to smack her. Plus, she's much more comfortable with his lifestyle than I would be. I'd be pretty miffed in some of the situations that she just brushes off.

Beyond that, it gets compelling very quickly and even though it's pretty predictable, it's a fun story with characters that are likeable in the end if not at first. I was taken along for the ride with Lacey and ended up appreciating Dante for all his layers. There's room for more books with some of these characters, but there's nothing that suggests it will be a series or needs to be. I was very comfortable and happy with the story upon closure.
Bottom Line:
Rock It is a story about a rock star in his prime that is contrarily tired of the lifestyle. In his efforts to change that, he learns that his biggest fan is so much more and their journey is full of ups and downs that make for a funny, sexy, and compelling read.
Rating:


Links:
*****************************
About the Author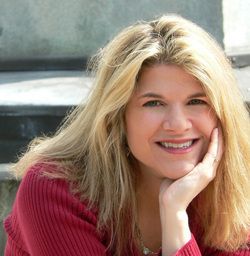 I come by romance honestly, having spent several years writing adult romance and entering romance contests through Romance Writers of America–including finaling twice in the prestigious Golden Heart contest and winning once. But despite these and other contest wins, my first published novel came not in adult romance, but as a writer of YA historical fiction (you can read all about my Elizabethan spy girls stories, the Maids of Honor, here.)
Still, despite my love of Elizabethan spies, I could never quite give up those super Alpha contemporary romance heroes. So, in the summer of 2013, I decided to see if perhaps I might still have a romance or two up my sleeve.
I wrote a tale about a girl whose biggest high-school and college crush–a rock star–suddenly becomes her biggest client, only now she has to be professional and not betray the fact that she's completely in love with the guy. It was a fun, sexy, romantic fantasy, and I suggested the idea to my agent… who asked what other ideas I had in addition to this story. Shortly after, the Rule Breakers series was born.
To separate these books from my historical work, I adopted the name Jennifer Chance. I am now pursuing my dreams (pretty much round the clock as it turns out) and am THRILLED to be able to have four e-books coming out in 2014 and early 2015, all with Random House LoveSwept's New Adult romance line.
As to what will happen from here, who knows? But as long as there is a story to be written and an HEA to be had, I'll be the one over in the corner, tapping away on my keyboard.
Find the author:
Website
Facebook
Twitter
Goodreads
***Up for grabs on this tour is an an iPod Shuffle (open to US entrants only, if international entrant is chosen they'll receive a $50 gift card to the eTailer of their choice). Additionally, Random House is sponsoring the tour with a $50 e-giftcard, and swag including a Loveswept mug and tote (open to US entrants only). Enter below!***
a Rafflecopter giveaway