Yay for a joint blog tour for Jennifer James's Peyton's Ride and Mina Carter's The Reaper and the Cop! I'm sharing my review of each book with you today. Happy reading!
*****************************
Summary:
She's about to trade her treasured motorcycle in on a much wilder ride--Ian Coghlan.

Divorcee Peyton Reynolds is ready to escape the the judgement of a small town, bad memories of her failed marriage, and the grief of her mother's death. A month long, cross-country ride should do just the trick. One last check-up on her new cruiser has her tripping over her hormones while alone in the garage with the town's sexy bad boy, Ian Coghlan.

Tattooed, pierced, and able to shape-shift, Ian will give her the ride of her life.

Ian Coghlan knows he's nothing but disaster for a woman like Peyton. His place in the Wild Hunt and killer instincts have held him back from acting on a five-year attraction. When the curvy brunette responds to one tiny grin with a spark of interest, sockets fly out of the toolboxes and Peyton is knocked to the floor.

That month of solitude she wanted just disappeared, but the consolation prize is looking pretty...damn...hot.

With the magic of the Hunt in the air, Pixie pranks abound, and his old biker gang roars into the parking lot, dousing the heat in the garage with the cold dredges of mayhem. Peyton's life is on the line with his bad brothers' return to his world, and Ian has to decide if he can let her go or if he's willing risk her eternal hatred by changing her life forever.
Title: Peyton's Ride
Series: Riding with the Hunt
Book #: 1
Author: Jennifer James
Approximate Book Length: 65 Pages
Recommended Reader Age: 18+
Sexual Content: Explicit
Thoughts:
Oh man! This was such a fascinating book. At its core, it's a very sexy book filled with man candy and sensuality. However, that's the tip of the iceberg. Add in the mythology, and you've got an incredibly intriguing book that I couldn't put down. There's some exciting action, creative creatures, stubborn alpha males, and world building that promises SO much more in future installments. I really can't wait for more, especially since I'm not familiar with "The Hunt" and this is a fabulous introduction!
Bottom Line:
Peyton's Ride is a fantastic beginning to what promises to be a fun and sexy series full of danger and passion. Grab this work of awesome by an increasingly inventive author!
Rating:



Links:
Summary:
Death's big business. For Laney Larson, it's a full time job.

The latest in a long line of Reapers, Laney hits Liberty, Oakwood expecting the usual 'reap and run' type of job. However the small town holds far more secrets than she expects, including a sexy cop who blind-sides her reaper instincts big-time.

Liberty. It used to be a nice town until the things that go bump in the night moved in.

Detective Troy Regan moved to Liberty to claw back a little of his soul after working homicide in the big city. But the sleepy little down has problems of the paranormal kind and it's police department have gone from calls about lost cats to Boggarts in the basement. Then the seriously nasty stuff moved in.

Sparks fly when a sexy Reaper meets a hot as hell Cop...

Troy's not sure exactly what flavour of paranormal Laney is, but he doesn't care. She's tiny, delicate and gorgeous. When he finds a Lycan looming over her in an alley, all his protective instincts flare up. He needs to get her home, keep her safe…in his bed.

But is she the answer he's been looking for to fill the empty spot in his heart, or the most dangerous creature he's ever met?
Title: The Reaper and the Cop
Series: N/A
Book #: N/A
Author: Mina Carter
Approximate Book Length: 52 Pages
Recommended Reader Age: 18+
Sexual Content: Explicit
Thoughts:
This one starts off with a lot of exposition that, while necessary, is also a little daunting and confusing. However, once it's out of the way, it gets interesting and fun. The world building is really neat and the chemistry between the characters is really sexy. It's a short read with a couple exciting action scenes and a hot love scene that promises more.

I can't find any mention that this is going to be a series, but it's very obvious after reading it that it is. There HAS to be more coming, because the ending is far too abrupt – even if it is a slick one. I'm looking forward to more in the world setting, but also surrounding these particular characters. I was just getting to really like them when the story ended!
Bottom Line:
The Reaper and the Cop is a quick, sexy read that will is set in an enthralling world with plenty of room for just about anything you can imagine. Don't miss out!
Rating:


Links:
*****************************
About the Authors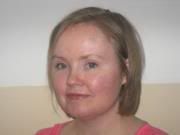 For a girl whose first book was called "The Scariest Forest Ever," the jump to romance may seem to be a far one. But a love of happy endings and the stories she kept making up in her head for strangers on the street lead to an unhealthy amount of time spent behind the keyboard typing away and giggling mischievously over sassy heroines, sexy heroes, and healthy sprinklings of geek humor.
With time split between a day job staring at teeth, two little girls, college courses, workaholic husband, and too many voices in her head, Jennifer still finds time to sneak off and devour all the books she can find – even if it means hiding in the closet to read them.
She insists on her jokes being dirty, drinks spiked, and tattoos placed in intriguing, muscular places you can only find when the clothes come off.
Find the author:
Website
Facebook
Twitter
Goodreads
Mina was born and raised in the East Farthing of Middle Earth (otherwise known as the Midlands, England) and spend her childhood learning all the sorts of things generally required of a professional adventurer. Able to ride, box, shoot, make and read maps, make chainmail and use a broadsword (with varying degrees of efficiency) she was disgusted to find that adventuring is not considered a suitable occupation these days.
So, instead of slaying dragons and hunting vampires and the like, Mina spends her days writing about hot shifters, government conspiracies and vampire lords with more than their fair share of RAWR. Turns out wanna-be adventurers have quite the turn of imagination after all...
(But she keeps that sword sharp, just in case the writing career is just a dream and she really *is* an adventurer.)
The boring part: A full time author and cover artist, Mina can usually be found hunched over a keyboard or graphics tablet, frantically trying to get the images and words in her head out and onto the screen before they drive her mad. She's addicted to coffee and would like to be addicted to chocolate, but unfortunately chocolate dislikes her.
Find the author:
Website
Facebook
Twitter
Goodreads
***Up for grabs on this tour is an ecopy of Peyton's Ride and an ecopy of The Reaper and the Cop. Open Internationally. Enter below!***