***This book was originally reviewed for My Secret Romance.***
~~~~~~~~~~~~~~~~~~~~~~~~~~~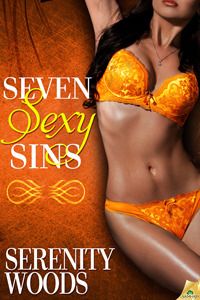 Summary:
Faith has been commissioned to write a series of articles on spicing up your love life. She's picked her theme, "Seven Sexy Sins", but the problem is she's never experienced any of them. Her brother's best friend, Rusty, has kept his distance out of respect, but decides to jump at the chance to help Faith with her problem. Struggling with reputations, a family curse, and a long-time crush, they'll navigate their way through her series of articles, and hope the fallout isn't as messy as they fear when it's all over.
Thoughts:
I've found a new favorite! I thoroughly enjoyed this book. The characters have such depth, you feel like they could be friends of yours. The story can be so emotional, yet it's also incredibly sexy and fun. I think it was well balanced, well written, and well paced all around. It actually reminded me a bit of the movie "How to Lose a Guy in 10 Days", only revolving around keeping the fire alive rather than trying to alienate someone.

A brief description of Faith's "Seven Sexy Sins" and how she intends to portray them are as follows: Envy involves porn, Sloth involves oral sex, Gluttony involves food, Pride involves stripping, Wrath involves a little light bondage, Greed involves multiple orgasms, and finally Lust involves tantric sex. She and Rusty delve into each of these, all on separate nights, and we get to tag along for the ride. The night of porn is their first sexual encounter and it's a fairly comical experience as they're both a little nervous about it. The food exploration leaves me unable to ever look at a candy bar the same way, that's all I'm sayin' about that! Wrath and greed were all around fun. Lust is the kicker though, because it's the final night when everything comes to a head. It goes great, until it's all over and then everyone's just left pretty shattered and heartbroken.

Faith's been in love with Rusty from day one and Rusty's been in love with her since the moment he saw her as more than just his friend's little sister, but after Dan (Faith's brother) gives him a black eye for kissing her on her 18th birthday, he keeps his distance, until now. Faith knows Rusty's got a reputation as a heartbreaker, but decides to go through with it anyway, and Rusty struggles with his loyalty to Dan as well as his fears of Faith seeing him become like the rest of his family – a mean drunk.

I think many women can identify with Faith's position, falling for someone you "shouldn't" and facing the inability to ever have him, but I can actually identify with Rusty too. Alcoholism sucks, and the fear of succumbing to it and hurting someone – physically or otherwise – can be debilitating. The final pages are so achingly satisfying, you could almost cry…when you're done laughing!