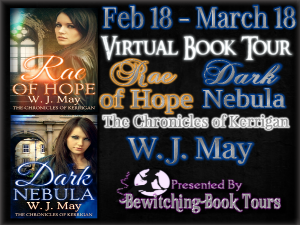 Thanks to Bewitching Book Tours for hosting this blog tour. I'm promoting The Chronicles of Kerrigan today while the author, WJ May talks about watching the waves at Myrtle Beach. Welcome!
*****************************
It's March Break in Canada (well, in Ontario) and our family heading down to Myrtle Beach for the kids spring break. It's awesome, in so many weird and memorable ways.
As a kid my folks took us here for years during every spring break. Other families from the area I grew up in came also. The first year we came, my folks didn't have a ton of money. I was a kid so I never knew but it's neat to look back at it now. My dad's passed away and I would give anything to go back to the first trip.
It's about a fifteen hour drive so we stopped half-way and stayed with six of us in a motel that probably had seen more murders than Agatha Christie. We didn't know (though my sixteen year old brother probably did :-) He was pretty ticked. My other brother bought a ghetto blaster (totally cool back then) and on the drive down we listened to two eight-track tapes (kudos to anyone who remembers those) – the tracks were Johnny Cash and Nanna Mescury. I still listen to Johnny Cash and it brings me back to that trip whenever I hear the Ring of Fire.
We spent the week in Myrtle Beach at a hotel called the Fredericton. It was a couple of blocks away from the beach, not right on the shore. To me, it was a gold mine.
It was fun and now, years later I am here with my kids sharing my stories as a kid about what Opa took us to, how Uncle Randy and Uncle Ray walked the beach with a large stereo slung up on the shoulder, how we tried to suntan between palm trees and mini putted at the same place we are putting now, how Oma paid for our trip with a box a tea figurines (she sold them at antique shops along the way). Great memories.
Except now we are at a hotel right on the beach, no gun shot holes in the walls, and a TV in every room with a washer and dryer :-) We are making our own great memories and laughing along the way.
Oh, and my brothers still come to Myrtle Beach with their kids as well.
Regarding watching those waves; my plan was to get some editing and writing done. It seems when I'm behind the computer I keep getting distracted. Today there were dolphins splashing among the waves. So cool. So I had to try and get photos of them. Then there were these two cool dudes painted in a tuxedo and one as Spiderman. Too wild.
Need I say more?
*****************************
About the Author
Wanita May grew up in the fruit belt of Ontario - St.Catharines. Crazy-happy childhood, she always has had a vivid imagination and loads of energy.
The youngest of six -- four older brothers, and a sister -- taught her at a young age to be competitive in all aspects of life.
At sixteen, she began competing in athletics (track and field) and before she turned seventeen, she was representing Canada in high jump. She continued to compete, breaking Canada's JR High Jump record (1.92m - 6' 3 1/2" for those metric-ly challenged). She attented University of Toronto, and Kansas State University - winning CIAU's and becoming All-American 6x - NCAA Indoors Runner Up + more.
But you're not interested in her athletic career - unless of course you're curious to know she stands 1.70m (5'7") and has jumped 20cm over her head on more than one occassion. She's represented Canada at the World Championships, World Jrs., won Francophone Games, and loved every minute of every competition. From the grueling workouts, the crazy weights she lifted on her back, the days she thought her lungs were going to spit out of her mouth for lack of oxygen, the travelling around the world and the opportunity to read - her favourite past time.
Wanita and her husband now run an online business, dealing in antiques and collectables - particularly jewelry and porcelain.
After her father passed away in 2009, from a six-year battle with cancer (which she still believes he won the fight against), she began to write again. A passion she'd loved for years, but realized life was too short to keep putting it off.
She is currently represented by Dawn Dowdle of Blue Ridge Literary Agency. Wanita is a writer of Young Adult, Fantasy Fiction and where ever else her little muses take her.
Find the author:
Website
Blog
Facebook
Twitter
Goodreads
Rae of Hope The Chronicles of Kerrigan - Book 1
How hard do you have to shake the family tree to find the truth about the past?

Fifteen year-old Rae Kerrigan never really knew her family's history. Her mother and father died when she was young and it is only when she accepts a scholarship to the prestigious Guilder Boarding School in England that a mysterious family secret is revealed.

Will the sins of the father be the sins of the daughter?

As Rae struggles with new friends, a new school and a star-struck forbidden love, she must also face the ultimate challenge: receive a tattoo on her sixteenth birthday with specific powers that may bind her to an unspeakable darkness. It's up to Rae to undo the dark evil in her family's past and have a ray of hope for her future.
Dark Nebula The Chronicles of Kerrigan - Book 2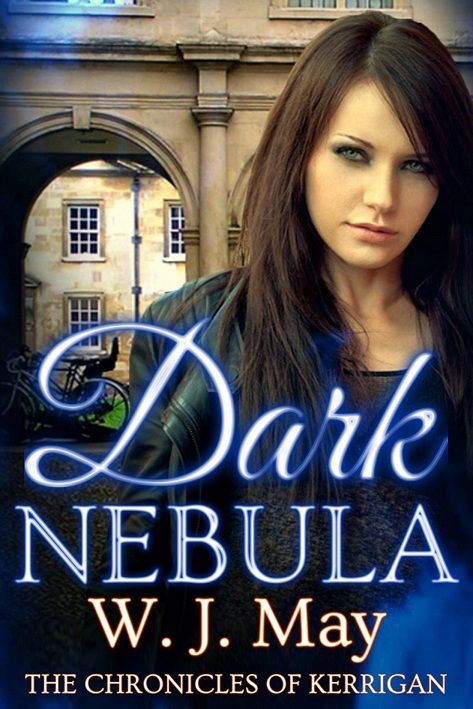 Nothing is as it seems anymore.

Leery from the horrifying incident at the end of her first year at Guilder Boarding School, Rae Kerrigan is determined to learn more about her new tattoo. Her expectations are high, an easy senior year and a happy reunion with Devon, the boy she's not supposed to date. All hopes of happiness turn into shattered dreams the moment she steps back on campus.

Lies and secrets are everywhere, and a betrayal cuts Rae deeply. Among her conflicts and enemies, it appears as if her father is reaching out from beyond the grave to ruin her life. With no one to trust, Rae doesn't know where or who to turn to for help.

Has her destiny been written? Or will she become the one thing she hates the most—her father's prodigy.