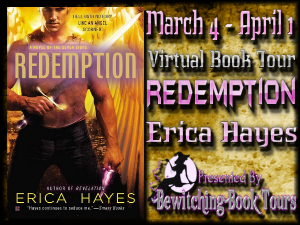 Thanks to Bewitching Book Tours for hosting this blog tour. I have Erica Hayes, author of Redemption, here today. Welcome!
*****************************
Greetings, and thanks to Buffy for hosting me today! I'm Erica Hayes, and I'm a paranormal romance author. Or maybe an urban fantasy romance author. What's in a genre, anyway? It's all in the same section of the bookstore, right?
But there's nothing more disappointing and annoying as a reader than when a book turns out to be different to what you were led to expect. Even if the book is great, it can really taint my enjoyment. I've had many a quiet rant on the subject.
That cover model looks nothing like the heroine!
I say, or
That back cover copy is nothing to do with the story!
Some authors strike it lucky. I really like the covers of Patricia Briggs' Mercy Thompson series. Mercy looks just as I imagine her, and the details are evocative of her world. I also love Larissa Ione's US covers for her Lords of Deliverance series. Dark, sexy, violent and wild. Perfect!
So, in the interests of reader sanity (and public safety!) I wish to make the following announcement: here is my new book,
Redemption
– and what you see is pretty much what you get.
Hot dude on the cover equals
romance
. Slightly crazy-looking hot dude equals… well, yeah. That's what it equals! Flaming sword and feathers and stuff equals
paranormal
. City lights in the background equals
urban
with lashings of
dark
.
And the back cover copy pretty much nails it: chaste, tormented fallen angel warrior meets sultry vampire assassin. They meet. They kiss. They try to kill each other. Hot lovin' and apocalyptic action happens.
But the world of the Seven Signs series is bigger than just Japheth and Rose. You'll meet other angels – Japheth's conniving archangel, Michael, for one, and a few of his fallen buddies. There are cool female angel warriors, too! You'll also meet the chilly Demon King, Azaroth, and a crafty pain demon called Zuul, who thrives on tormenting angels. If you're familiar with my
Shadowfae
books, you'll know I am putty – putty, I say! – in the paws of a sexy, scheming secondary character. Especially a villain!
So yeah.
Redemption
is a dark paranormal urban fantasy romance apocalypse. With demons. Just so you know.
So tell me: what are some recent books/series that you think have perfect covers? And which ones do you think missed the mark?
*****************************
About the Author
Erica Hayes was a law student, an air force officer, an editorial assistant and a musician, before finally landing her dream job: fantasy and romance writer.
She writes dark paranormal and urban fantasy romance, and her books feature tough, smart heroines and colourful heroes with dark secrets.
She hails from Australia, where she drifts from city to city, leaving a trail of chaos behind her. Currently, she's terrorizing the wilds of Northumberland.
Find the author:
Website
Blog
Facebook
Twitter
Goodreads
Redemption
Japheth the Tainted is on the hunt for a mysterious demon vampire. But meeting her face-to-face might disarm his warrior spirit—and spark an unquenchable passion with apocalyptic consequences.

As a fallen angel, Japheth is determined to make his way back to heaven by staying pure and slaying hellspawn. With a new scourge of vampires unleashed by a blood-drinking demon, the Prince of Thirst, there's plenty to be done. But Japheth is after one vampire in particular—the one they call the Angel Slayer.

Rose Harley never wanted to be a vampire, but the Prince of Thirst can turn even the kindest soul into a soldier of hell. Feeling abandoned by God, she stalks the West Village taking revenge on his angels—until she meets her match.

When Japheth and Rose encounter each other, the battle is fierce and charged with desire. But when they discover a common enemy—the Prince of Thirst himself—they form a dangerous alliance that could either cost them their eternal lives, or spark a love more powerful than heaven or hell.
***Up for grabs on this tour is a Kindle Fire (or equivalent Amazon GC). Enter via the Rafflecopter below!***
a Rafflecopter giveaway