Please give a warm welcome Felicity Heaton to the blog today! She talks a little about herself and her latest work. Welcome!
What got you started in writing?
I wrote a little in school when I was a teenager because we had to write the opening chapter of a gothic horror and it really got my mind working, and my teacher liked mine so much that she read it out to the class. I wrote more for it, had a whole plan for the story, but then schoolwork took over and it fell to the wayside.

I didn't write until 2003 after that. I got really into writing fanfiction for Buffy the Vampire Slayer and was running my own fanfiction website for my stories. A friend who was writing the same genre as me convinced me to give writing something original with my own characters a go. I took a little convincing but I took the leap and really loved it. I began indie publishing my books back in 2006 after being with an e-publisher for a year. It was just something I came to naturally. I didn't set out to be a writer. It just sort of evolved into my career. I was happy balancing a full-time job with writing in my spare time. I never really believed that I would make enough money each year to be only a writer. I was shocked when I found I could quit my day job back in 2010. I went full-time writer in 2011 and I still can't believe this is my job!

What inspires your various stories?
I'm never sure. I get inspired by anything. From a song, to something on TV, to something I read, or even just taking a walk. I have a very hyperactive muse and he's always throwing new story ideas at me and inviting new characters to wander into my head.

Can you tell us about your latest release?
I've just finished working on Her Sinful Angel and that's now available as part of the Dark and Damaged boxed set with seven wonderful authors—Caris Roane, Laurie London, Erin Kellison, Erin Quinn, Jennifer Ashley, Bonnie Vanak and Colleen Gleason. We all decided to write new stories for this set, and it was crazy, but it was also fun to try something new. That book will release separately at the end of July and it's part of the Her Angel series. I decided it was time that the Devil got his heart captured.

Any plans on how long the series will be?
Her Sinful Angel is the 8th book in the Her Angel series, and it wraps up that series, and in a way bridges the gap between the Her Angel series and the new series I'm writing, Angels of the Apocalypse, which is set in the same world. The Angels of the Apocalypse series will begin next year and it's going to be five novels in total.

You have many series going on and they all appear to be paranormal. Have you written any contemporary?
I'm strictly paranormal romance, but sometimes dabble in fantasy or sci-fi. I have written contemporary, historical, fantasy, and other genres but paranormal is where my heart lies. It's what I love writing. I'm passionate about paranormal.

Do you have a favorite book you've written?
Tempted by a Rogue Prince in the Eternal Mates series. I know I shouldn't really choose one out of all my babies, but I love that book because it handled the rather tricky romance of my favourite character, Vail. It was hard to write at times, because of the destructive and damaged nature of Vail, an elven prince, but I really relished the challenge and it was a story that really needed to be told. I wanted to "fix" Vail, or at least set him on the path towards the light, and I think a lot of my readers also wanted that for him.

Who is your favorite author?
I don't have just one favourite author. I love several paranormal romance authors. I absolutely love Lara Adrian's books. I also love to read series by Sherrilyn Kenyon and Larissa Ione, and sometimes Christine Feehan and Lynsay Sands. More recently, I've started reading Elisabeth Naughton's Eternal Guardians series and also like to dip into Donna Grant's dragon shifters series too. When I have time to read, I pretty much devour books one after the other, mixing up the authors and series.

You're a fairly prolific writer. What's your writing process like?
I'm a plotter. I have to write full outlines for my books. Those start life as a series of ideas or scenes jotted into a word document whenever they come to me. Normally I'm working on another book at the time, but I'll take a moment to scribble them down in the word document and let the ideas flow out of me. When I'm ready to pull the outline together, I get that word document, print it out and slice it into scenes. I go through them, decide the order they should run in, and then I put them together and fill in the blanks. Once I have my outline, I'll pull together character profiles, looking into each of the main characters. Normally, more stuff for the book comes to me as I learn about the characters, and I have to go back and add it into the outline. Once I have that, I can write the first draft straight through. I let it sit for a couple of weeks while I do something else, and then I'll edit it a couple of times over, before proofreading it another couple of times.

What's a day in your life like?
I crawl out of bed for coffee, slowly wake up playing video games, and then I head up to my office where I'll check and answer emails, see what's on my schedule for the day and get on with my work. My day is always a mix of writing/editing, and everything else like marketing, designing graphics for adverts / covers, making ebook formats / paperback formats for my next release, and updating my website and social media. I tend to do almost everything for my books. From writing to the final product, and then marketing. It means I'm often a bit busy, but that's the way I like it.

What are you hobbies and interests outside of writing?
I love anime and manga, both Japanese in origin, and can happily sit watching a new anime series or reading a new manga, letting the world drift by unnoticed by me. I also have a passion for playing PlayStation games, especially ones such as Destiny, Assassin's Creed (I had always wanted to be an assassin), Uncharted, Tomb Raider, and the Final Fantasy games. I like exploring the worlds and the characters, and unravelling mysteries during the adventure. When I'm not holed up in my house, I'm outside at archery practice, honing my novice skills with a recurve bow.

Do you have any advice for aspiring authors?
Study the craft. I think it was advice I gave to myself but I do recommend it to all writers. I've read some fantastic books on writing and I still make time to read books on writing now. They've all helped me in some way or another. I'm an advocate of putting in some reading time and doing exercises to improve your writing.

Anything else you'd like to share? Maybe some fun facts about yourself?
I'm trying to think of fun facts. Lol. I'm a cinnamon addict. I love it in everything from coffee, to ice cream, to cakes and sweets. I can't get enough of the stuff.

I think that's about it. Cinnamon addiction is my quirkiest fact.

If readers want to see if I somehow come up with more, they can chat with me on social media, or if they just want to find out more about me and my books, they can check out my website.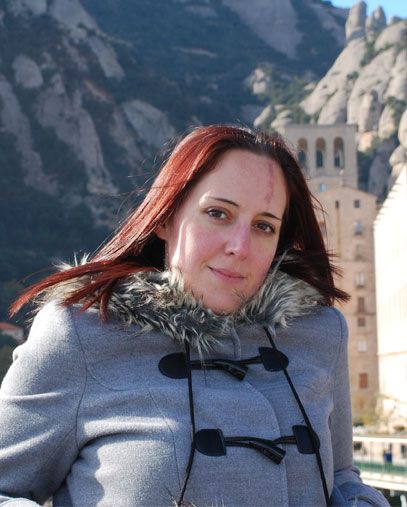 Felicity Heaton writes passionate paranormal romance books as Felicity Heaton and F E Heaton. In her books she creates detailed worlds, twisting plots, mind-blowing action, intense emotion and heart-stopping romances with leading men that vary from dark deadly vampires to sexy shape-shifters and wicked werewolves, to sinful angels and hot demons!
If you're a fan of paranormal romance authors Lara Adrian, J R Ward, Sherrilyn Kenyon, Gena Showalter and Christine Feehan then you will enjoy her books too.
If you love your angels a little dark and wicked, Felicity Heaton's best selling Her Angel series is for you. If you like strong, powerful, and dark vampires then try the Vampires Realm series she writes as F E Heaton or any of her stand alone vampire romance books she writes as Felicity Heaton. Or if you're looking for vampire romances that are sinful, passionate and erotic then try Felicity Heaton's new Vampire Erotic Theatre series.
In 2011, five of her six paranormal romance books received Top Pick awards from Night Owl Reviews, Forbidden Blood was nominated as Best PNR Vampire Romance 2011 at The Romance Reviews, and many of her releases received five star reviews from numerous websites.
Find the author:
Website
Facebook
Twitter
Goodreads