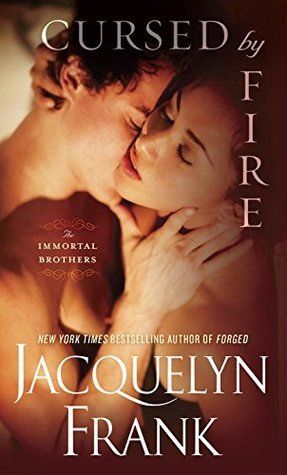 Summary:
For centuries, Dethan has been trapped in a fiery inferno for defying the gods and snatching the power of immortality. Condemned to have his battle-hardened body licked by flames only to regenerate and be consumed all over again, Dethan has lost all hope—until the Goddess of Conflict appears. She will release him from torment—if he'll use his power and strength as a warrior to raise an army and defeat a fierce enemy faction of gods.

Free to live as a man once again, Dethan meets Selinda—heir to the throne of Hexis—and his thoughts quickly turn from the conquest of cities to the conquest of this headstrong beauty. Betrothed to a cruel, calculating powermonger, Selinda needs a champion, and so Dethan enters into another bargain: If she will share her bed—and her body—with him, Dethan will save her city from destructive forces within and without. As the lovers ignite a searing passion, Dethan will risk all—even the wrath of the Goddess of Conflict—for a chance to make Selinda his forever.
Title: Cursed by Fire
Series: Immortal Brothers
Book #: 1
Author: Jacquelyn Frank
Approximate Book Length: 352 Pages
Recommended Reader Age: 18+
Sexual Content: Moderate
Thoughts:
This was a pretty complex read. It was a little slow at times, but riveting none the less; and while most of the book had slow moments, the ending felt almost rushed. I spent a lot of time sad for the couple due to their circumstances, but things work out which made me happy.

I liked the characters. The villain was perfectly hateable, the few secondary characters we saw were great, Dethan was cunning, and while Selinda was a bit of a doormat sometimes she was also quite strong.

Overall it was a very interesting world with great mythology.
Bottom Line:
Cursed by Fire is an intriguing start to a new series that combines the feel of the fantasy and historical genres.
Rating:



Links: