***This book was originally reviewed for The Forbidden Bookshelf.***
~~~~~~~~~~~~~~~~~~~~~~~~~~~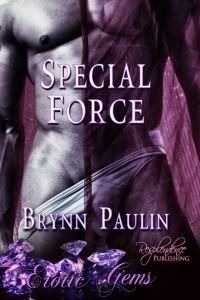 Summary:
Amelia Barker and Keon Munro are about to meet face-to-face for the first time. With F-16 butterflies dive-bombing her belly, she nervously awaits her soldier and the promises he made over the internet. Fresh off deployment, Keon is ready for some one-on-one action with the woman who captured his heart through cyberspace. Too bad she's not who he thinks she is. Either way, she'd better be ready for his special force. He's been dreaming of this night for months, and her sweet behind is his.
Thoughts:
This is a quickie read, but oh so enjoyable. I'm a sucker for a man in uniform, so I loved the military angle, and the homecoming scenario that's created. Though I've never been in that position, the way it's portrayed feels authentic. The dynamic between the characters feels a little awkward at first, but once they get past big secret, the chemistry is sizzling.

The reference to "special force" might give you the idea that this story has some BDSM in it, and Keon absolutely exudes that commanding persona, but there is no actual bondage or anything so it's not as taboo as it might sound. Though I will say there's a little spanking involved.

Besides the sexy aspect, I enjoyed the emotional bond they have, especially when it really shone through as they consider and discuss their potential future (even if it was a short conversation :P).