***This book was originally reviewed for The Forbidden Bookshelf.***
~~~~~~~~~~~~~~~~~~~~~~~~~~~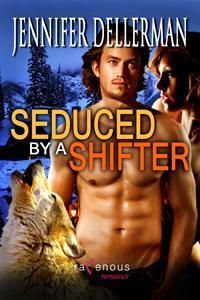 Summary:
Willow Yancy lost her career as a ballet dancer, and nearly her life, after being in the right place at the wrong time. Located by her shooter, she's transferred and placed into the protection of people who have secrets of their own. As bait to lure the enemy, she'll accept all the help she can get, especially if it comes from the one man who makes her body sizzle with desire.

Ben Alexander is a charming ski instructor and go-to guy for the Colorado shifter wolf pack. His engaging attitude lands him baby-sitting duty- only this baby turns out to be a gorgeous redhead that captivates his senses. With the pending full moon, Ben must tell Willow the truth about himself and many of those she's come to call friends. A daunting task because if she runs, she'll destroy him. Yet how can she resist being seduced by a shifter?
Thoughts:
I loved this book! It was sweet, sexy, romantic, and fun. Willow has a quiet strength about her, and Ben is such a giver. They really make a great couple when they stop overthinking it. The shifter world that's created is a neat and family oriented one, making for fun and friendly people. The dynamic of Willow not knowing about the Shifter secret and everyone trying to hide it from her allows for many awkward moments, but are offset by some hilarious ones built on inside jokes and some very surprised Shifters.

Other than some editing issues, mostly consisting of typos, I don't really have any complaints about this story. Although I do wish I'd read the previous books in the series (I believe this is book 4), but I guess I can go do that now :D!

I'd say the story gets a 4 and the heat gets a 5. Overall it was very enjoyable and incredibly sexy. Her bodyguards are adorable and I love them, and the only thing left to say is…I want to make Rome purr.