REVIEW: Bride Undone by Kate Deveaux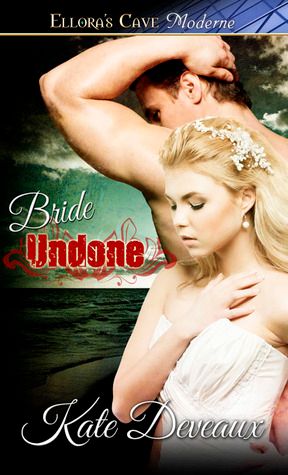 Summary:
Chloe Dobson is supposed to be getting married in a week, yet she can't help spying on the weddings of total strangers. Desperate to catch a glimpse of what true love really looks like, she is having serious second thoughts about tying the knot. Until she meets the long-lost father of her intended groom. The hunk from Texas confirms her worst fears. She is marrying the wrong man.

Sexy older man Wes Michaels can't believe it. Of all the women in the world to fall in love with, it has to be with his long-estranged son's bride-to-be? Despite an immediate attraction, Wes tries to crush his desire for Chloe. But when she confesses her feelings, he is overcome by his need to have her.

Chloe and Wes don't want to hurt Conner, Chloe's fiancé. But wouldn't a marriage based on a lie be worse than the consequences of their passion?
Title: Bride Undone
Series: N/A
Book #: N/A
Author: Kate Deveaux
Approximate Book Length: 166 Pages
Recommended Reader Age: 18+
Sexual Content: Explicit
Thoughts:
There are some good and some bad things to this book. I like that Chloe did the right thing and broke things off with Conner, but overall think she handled things badly and was pretty juvenile more often than not. I believe that love triumphs over all, so I liked that love bloomed despite the awkwardness of the situation. The romance part was a whirlwind, but otherwise the book wasn't very fast paced. Their bond develops largely off screen though so the strong feelings felt very sudden and happen only over a couple days which felt pretty unrealistic. There honestly felt like there was almost more sex than story and the love scenes felt more like a cheesy porno than loving or hot.

My biggest problem with this book is that there are so many unanswered questions! There's no facing the fallout from the drama and no follow up with Conner and his issues. But hey, Wes and Chloe ride off into the sunset together.
Bottom Line:
Bride Undone is the kind of book that a hopeless romantic will enjoy. Check it out!
Rating:

Links: