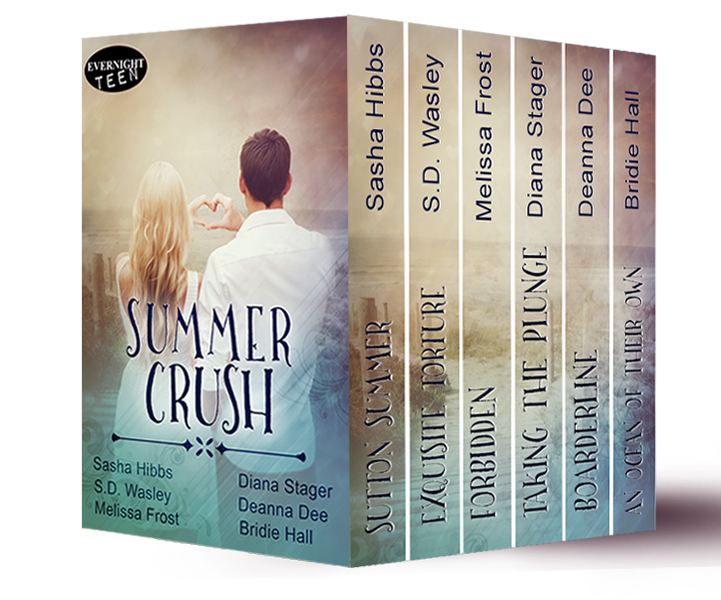 Summary:
Summer Crush: A wonderfully romantic boxed set of Upper YA short stories by today's hottest authors.

Summer is the time for lazy days at the beach, sun-kissed hair, flip-flops, and sizzling nights with a new crush. Those stolen glances and first kisses can quickly spark a flame. However, the road to love isn't always a smooth ride.

Every Summer has a story, whether it's a second chance on love, seeing a friend in a different light, or taking a step in a new direction with someone special. Love and long days create endless possibilities, but can a summer crush really last?

Sutton Summer by Sasha Hibbs:
After breaking Dylan's heart last year, McKenzie returns to Sutton Lake for another summer. McKenzie realizes love was in front of her the entire time, but is it too late for Dylan to forgive her?

Exquisite Torture by S.D. Wasley:
16 year old Ryan thinks he's in for the summer from hell, stuck at his Gran's farm in a remote town ... until he meets the adorable Connie. But why is she so cagey about her past?

Forbidden by Melissa Frost:
The new guy in town has a bad reputation and a bad boy demeanor to go with it. Even so, Olivia can't help feeling drawn to Gavin. Can she convince her mother he's not the delinquent everyone believes, or will his past tear them apart?

Taking the Plunge by Diana Stager:
Overwhelmed and alone, Jessica is a teenage mother struggling to give her son the best possible life. Erik, a lifeguard at the local pool, never expected the girl of his dreams to have baby in tow. They have issues, but will it keep them from pursing the relationship, or are they willing to take the plunge?

Boarderline Love by Deanna Dee:
Nearly drowning wasn't part of Dalya's vacation plans. Neither was being rescued by a guy with a perfect six pack and a haunted look in his eyes. Mason reminds Dalya too much of her over-protective older brother, but when he offers to teach her to surf, she can't say no. Can Dalya get past her frustration with her brother to realize how much Mason means to her?

An Ocean of Their Own by Bridie Hall:
Lola spends her days trawling the sand dunes in search of the perfect subject for her art. She finds it in a solitary, beautiful girl. Sarah doesn't just fill the pages in her sketchbook, she enchants Lola's heart too. But how can Lola tell her family about Sarah?
Title: Summer Crush
Series: N/A
Book #: N/A
Author: Sasha Hibbs, SD Wasley, Melissa Frost, Diana Stager, Deanna Dee, and Bridie Hall
Approximate Book Length: 207 Pages
Recommended Reader Age: 16+
Sexual Content: Mild
Thoughts:
This boxed set is actually fairly short, so I'll touch briefly on each story, but I won't be able to say much without ruining things.

Sutton Summer barely felt like a romance. It was mostly just kind of sad and all about healing. She was frankly kind of shallow and I didn't feel like she deserved him. The ending was decent, though predictable, but it just wasn't the most satisfying read I've experienced.

Exquisite Torture was a little weird, but kind of nice. I liked his character development and his sweetness. The ending was a little open though, feeling a smidge incomplete.

Foridden was one of my favorites in this collection. It was refreshingly authentic with great characters and a very sweet story. I think many out there can relate to some degree to the couple.

Taking the Plunge is a little more grown up than the other stories. It was very compelling and highly emotional. Predictable, and a little fast moving, but ultimately the story was satisfying and left me smiling.

Boarderline Love was a little tough for me. She's incredibly whiny and immature in the beginning so it was slow. She does grow some through the story. Overall, it's a decent read, but wasn't particularly satisfying.

An Ocean of Their Own was a pleasant surprise. I hadn't read the full description of all the stories in this collection, so I wasn't expecting a lesbian romance and it was rather refreshing. The sweetness of the girls was very cute and totally believable. My favorite aspect though was Lola and her dad. This was my other favorite of the stories and left me smiling!
Bottom Line:
Summer Crush is a set of stories that'll make you take a trip down memory lane as well as drag you into characters' lives until the last page is turned. Don't miss out on this sizzling YA/NA beach read!
Rating:


Links: