I'm sharing my review of Catherine Bybee's Treasured by Thursday today. Happy reading!
*****************************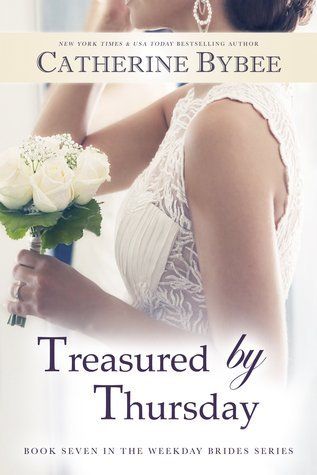 Summary:
The seventh and final tale in the dazzling, heartwarming, and pulse-racing Weekday Brides series.

Gabriella Masini: She's a woman haunted by her past, with the scars to prove it. She believes that fairy tales are for other people. An elite matchmaker at Alliance, she's great at crunching numbers, but something doesn't add up with her latest prospective client: a billionaire bad boy with his own secrets. When Gabi refuses to be his temporary wife, Hunter forces her hand with an offer she can't refuse. But marriage to a man like that could never last…or could it?

Hunter Blackwell: Only his bank account is bigger than his ruthless ability to obtain anything he wants. These days, he has a secret reason to settle down, at least for a while—and he thinks the sensual and sassy Gabi will fit the bill perfectly. But when their marriage of convenience becomes downright dangerous, Hunter must decide how far to take his vow to honor and protect Gabi forever.
Title: Treasured by Thursday
Series: Weekday Brides
Book #: 7
Author: Catherine Bybee
Approximate Book Length: 368 Pages
Recommended Reader Age: 18+
Sexual Content: Moderate
Thoughts:
I was so happy to see Gabi get a story. Her history from the last book was so heartbreaking that I wanted to see her get her happy ending. The circumstances under which her relationship with Hunter began were shady and sad, but the character development that evolved bringing them closer was so worth it. The story was compelling with a wonderful cast of supporting characters. I have only read the last two in the series and have every intention of grabbing the first five, but I'm still a little sad to see it end. Good thing there's more to explore from Catherine Bybee!
Bottom Line:
Treasured by Thursday is an intense and emotional read full of suspense and sweetness. It's a lovely end to a great series.
Rating:



Links:
*****************************
About the Author
New York Times & USA Today bestselling author Catherine Bybee was raised in Washington State, but after graduating high school, she moved to Southern California in hopes of becoming a movie star. After growing bored with waiting tables, she returned to school and became a registered nurse, spending most of her career in urban emergency rooms. She now writes full-time and has penned the Weekday Brides Series and the Not Quite Series. Bybee lives with her husband and two teenage sons in Southern California.
Find the author:
Website
Twitter
a Rafflecopter giveaway