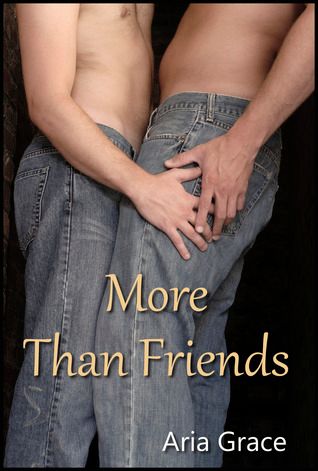 Summary:
Tired of moping around after the breakup of his long term girlfriend, Ryan knew he needed a hookup to get him out of his funk. When he met Drea, he hoped she might be the one. But when he felt more chemistry with her gay cousin Zach, Ryan was more confused than he had ever been in his life. He wasn't gay but he wanted to be with Zach. How could it possibly work?
Title: More than Friends
Series: More than Friends
Book #: 1
Author: Aria Grace
Approximate Book Length: 98 Pages
Recommended Reader Age: 18+
Sexual Content: Explicit
Thoughts:
This one was a good book, though it wasn't one that really stuck with me. It was sweet and sexy, with likeable characters. I will say that while I liked the book, there was one major thing that bothered me. Zach talks of making Ryan's first time hurt as little as possible. Pain just shouldn't be involved, and when done right, is NOT present. I read a lot of M/M romance, and it's a lot sweeter when the focus isn't on getting past the pain. I guess though it's a virginal thing. First time generally hurts a little. Anyway, besides that pet peeve of mine, it was a good friends to lovers/gay for you kind of story, just not a particularly memorable one.
Bottom Line:
More than Friends is a cute story of a guy finding what he didn't know to look for. Don't miss out on it!
Rating:


Links: