My good friend Jennifer James is touring with
Hunger Embraced
in preparation for the release of book 2,
Humber Unbound
. Happy reading!
*****************************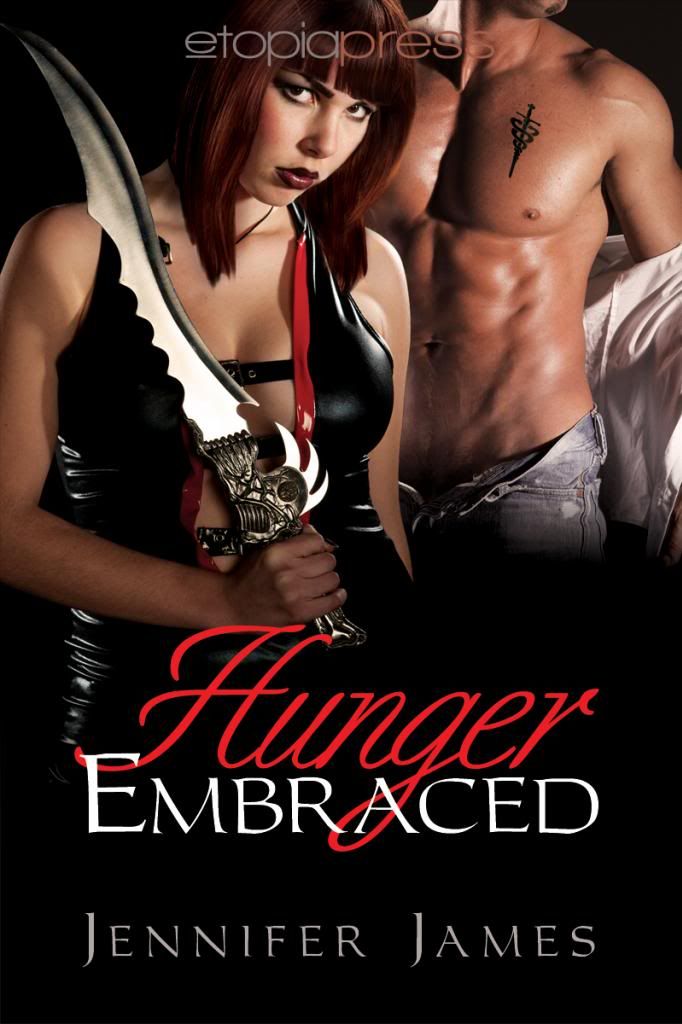 She's fed up with being fed on.

All Miranda Thibodeaux really wants to do is survive corporate hell and be left alone. But as the daughter of the Incubi king, being left alone isn't on her schedule. And as an avatar to a goddess with multiple personality issues, taking things in stride isn't either. Daniel looks like an ordinary surfer boy—T. T. B.--Tall, Tanned, and Blond. Hot he may be, but ordinary he's not. Beneath the pretty packaging lies a ruthless warrior, a servant to the Vampire Council. His mission is to find Miranda and present her to the council, then get the hell out of Dodge before he loses his focus. The last thing he needs is the distraction of the testy female.

When circumstances force Miranda to turn to T.T.B. for help, they both end up with more than they bargained for. And that normal human life she wanted? Not really doable when everyone wants a piece of her…
~EXCERPT~
"May I have a kiss?" He lowered his head to the side and waited for my reply.

The sweetness of the question melted me. Our mouths met and moved over each other with slow brushes of lips and tongue. The edge of one of his fangs grazed my flesh, opening a small cut, and he sucked on it hard, releasing me when the wound closed. I wished I had fangs of my own so I could do the same to him.

He sliced himself and shoved his tongue into my mouth. His blood was hot and potent with unspent magic. It tasted of the cleanest water I'd ever drank—the most refreshing thing ever to cross my lips.

Perhaps the mind reading wasn't so bad.

He slid my shorts down and off, coaxing my thighs apart even further until my knees rested on the mattress and I straddled his waist. I assumed he'd move to penetrate me, but he continued to kiss me and tease my pussy with his fingers.

I curled the edge of the T-shirt in my hands, hauling it up nice and slow so that I could watch his face as my stomach and breasts were revealed. He smiled at me, tracing first one, then the other areola in a careful, teasing circle. I arched my back, thrusting them out, enjoying the slow, gentle touch. His magic continued to follow wherever his flesh touched me, warm and kneading on my skin.
*****************************
About the Author
Jennifer James is a multi-published erotic romance author who lives in the Midwest on the shore of Lake Erie.
She once landed on her head in a creek while sled riding. Not to be outdone by her older brother, she continued to play and had to walk home with frozen twigs and leaves in her hair.
She loves spiked cocoa in the winter, Dirty Palmers in the summer, and has a raunchy sense of humor.
Published with Unbuttoned Press, Decadent Publishing, and Etopia Press.
To stay up-to-date on my latest releases and participate in exclusive giveaways, join my newsletter
mailing list.
Find the author:
Website
Facebook
Twitter
Goodreads
Look for HUNGER UNBOUND (The Hunger Series Book Two) August 1, 2014 from Etopia Press!

Unofficial Blurb:

Miranda Thibodeaux has one goal: save her best friend Anna from masochist Adrian Kaiser, Incubi king and the vampire her father intended for her to marry.

When the Vampire Council has her arrested and her mate Daniel tortured, she realizes she's got larger problems to deal with than a forced marriage contract and kidnapping. The Council needs Miri to help return fertility to the vampires, and they'll use any means necessary to ensure her compliance.

Escaping the Council's clutches, politicking with Celtic goddesses, surviving demon attacks, thwarting a ghost with deadly intent, and finding out her best friend Anna has a magical genetic pedigree linking her to the Morrigan are manageable.

However, when her Hunger is ripped from her body and takes physical form, draining everyone she can with abandon, Miri grows weaker by the moment. It isn't long before everyone realizes that if Miri and her magic aren't reunited, they'll both fade away.

But with the goddess Babd assembling an army of the dead to combat rogue Empaths and demanding Miri's participation in battle, demon attacks, assassination attempts, and shocking revelations about her mate Daniel's past, she has to find help and fast.

Unfortunately, there's only one person she can turn to who can keep the Hunger fed and controlled until they can be reunited in one body: Adrian Kaiser.