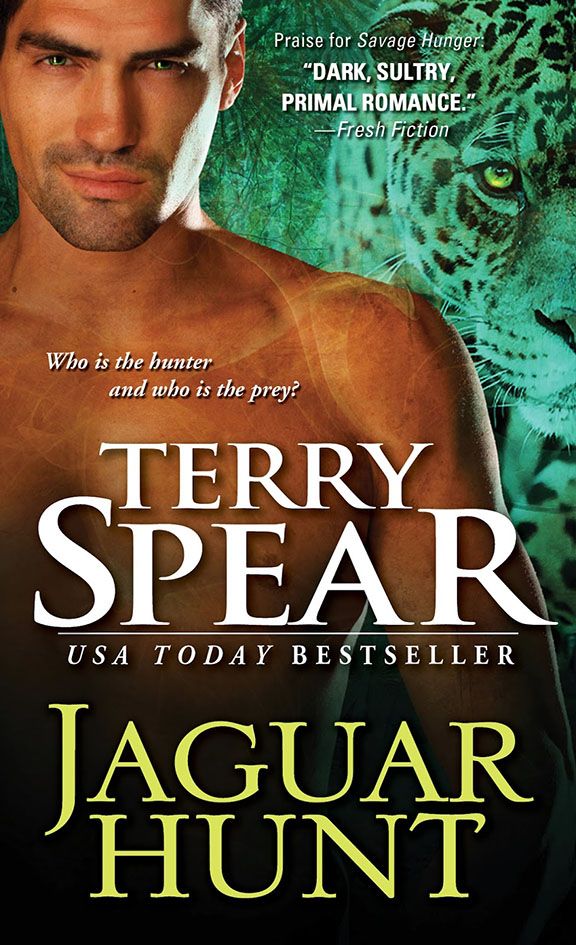 Summary:
Two deadly predators...

As a feline Enforcer, Tammy Anderson has one objective: locate the missing jaguar and return it to the States. She doesn't have time for distractions, and she definitely doesn't have time for sexy shifters with more muscles than sense.

One hot mission...

Everyone and their brother has warned JAG agent David Patterson that Tammy is Ms. Hands-Off...which only makes him more determined to get very hands-on. But things heat up in the steamy jungles of Belize and their simple mission gets a whole lot more complicated. Now it's going to take everything David's got to protect the gorgeous she-cat who somehow managed to claw her way past his defenses...and into his heart.
Title: Jaguar Hunt
Series: Heart of the Jaguar
Book #: 3
Author: Terry Spear
Approximate Book Length: 353 Pages
Recommended Reader Age: 18+
Sexual Content: Moderate
Thoughts:
I've really enjoyed this series. I haven't reviewed books one and two, but I have read them. I can say that it's not necessary to read them in order, but it's helpful. Each book sort of plays off the last one even though they standalone just fine.

I'm going to get the negative comments out of the way. The perspectives sort of run together a bit, but it's not a huge deal. What really bothered me was that they mention how good jaguar shifters' hearing is, yet they'll talk openly about mission details in a crowded dining hall where other (ordinary) people can clearly hear them.

Oh and my biggest pet peeve, about ANY cat shifter book, is that the big cats DO NOT PURR. Only the cheetah does, while the others can roar and the cheetah can't. Yes, I watch too much animal planet et al. However, I digress, most big cat shifter books have them purring and it works from a romantic stand point…

That being said, now I'll talk about the goodies! The mystery was good. It had a lot of twists and turns, but not in a confusing way. It wasn't too easy or two hard to jump to the conclusion. The characters were all great. I really enjoyed the teasing banter between Tammy and David, and I absolutely adored the teen boys – they were great fun.
Bottom Line:
Jaguar Hunt Jaguar Hunt is a fun sequel with a great balance of mystery, romance, excitement, and danger. It'll take you on an awesome wild ride!
Rating:



Links: