REVIEW: Descended from Dragons by Tricia Owens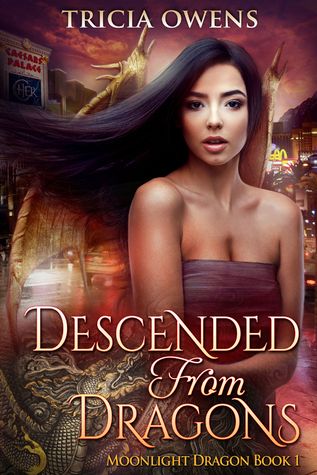 Summary:
To save Sin City, she must battle Hell. Too bad the odds are against her.

Beneath the glitz and glamour of Las Vegas lies another city. A secret city in plain sight, full of warlocks and demons, shapeshifters and golems. A city that feeds off the chance magick that is generated by gamblers and which is ruled by mysterious beings called the Oddsmakers.

It is in this strange underbelly of the occult that Anne Moody runs a cursed pawn shop for the desperate, the curious, and the magickally inclined. The job can be tricky, but it keeps her under the radar. None of her customers have any inkling that she is a dragon sorceress with a power that's been feared throughout history. One day, a visitor to her shop pawns a stone statue that is more than it appears. The statue is a gargoyle named Vale, who is shrouded in mystery and secrets. When she learns that Vale is possessed, and that the person responsible for cursing him plans to take over Las Vegas with a horde of demons from Hell, Anne realizes it is up to her to defy the Oddsmakers and save the city, and possibly the world.
Title: Descended from Dragons
Series: Moonlight Dragon
Book #: 1
Author: Tricia Owens
Approximate Book Length: 218 Pages
Recommended Reader Age: 18+
Sexual Content: Mild
Thoughts:
This was an intriguing start to a new series! There are a lot of different kinds of beings and magic which leaves a wide open world for future books. It did feel like it could have been longer though – like it was the first half of a book or something. It didn't end with a cliffhanger or anything (not really), but it did feel incomplete enough to crave the next book. It was an overall cute, fun, and exciting read!
Bottom Line:
Descended from Dragons was a cute, fun, and exciting read. If you're a fan of Jim Butcher's Dresden Files, grab this for a similar feel.
Rating:



Links: