REVIEW: Mate of Her Heart by RE Butler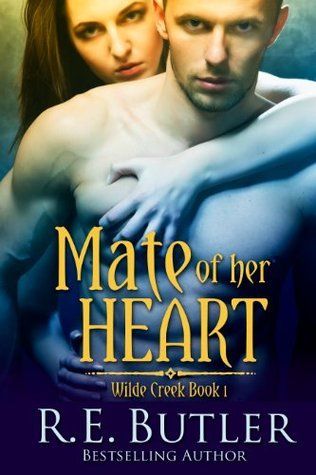 Summary:
Werewolf Eveny Moore is coming into her first heat at the age of twenty-five. Bucking tradition, she chooses to go through her first heat alone instead of choosing an unmated male from her pack. There is only one male that she wants in her bed and her life: her best friend, Luke Elrich. But Luke is human and doesn't understand the consequences of her heat-cycle, so she hides out in a safehouse, planning to ride out the cycle alone and then ask Luke to be her mate.

Luke has loved Eveny forever, but something is going on between them. He's afraid he's losing her forever, until she promises to talk to him after her heat-cycle is over. He overhears her brother, the pack alpha, ask another wolf to go to Eveny and take her through the heat-cycle. What her brother doesn't know is that the male plans to invite some of his friends along. And Eveny is alone in a remote cabin, unprotected. Luke will do anything to keep her safe, even if it means going up against four wolves.

This story contains a meddling brother, a human fighting a pack of male wolves for the only woman he's ever loved, a female who thought she had a good plan, and bone-melting, skin-tingling hot sex between a male and a female who have loved each other forever.
Title: Mate of Her Heart
Series: Wilde Creek
Book #: 1
Author: RE Butler
Approximate Book Length: 76 Pages
Recommended Reader Age: 18+
Sexual Content: Explicit
Thoughts:
So this was a sweet and very sexy read. It was also very exciting. I normally don't care for fight scenes, but Luke's was straight up impressive. I love the mating scenario and the general portrayal of wolves. I absolutely look forward to checking out more in this series. My only complaint was some of the names (regarding spelling) – Acksel in particular.
Bottom Line:
Mate of Her Heart kept me on the edge of my seat as well as hot and bothered. It was a pretty awesome read that left me with smiling.
Rating:



Links: