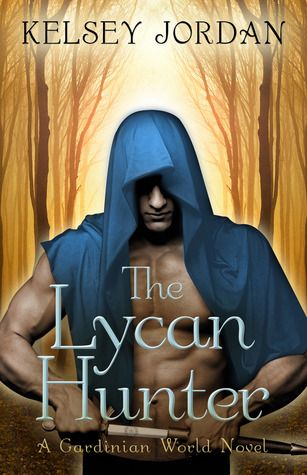 Summary:
When Alexis James arrives at her first assignment in months, she anticipates the danger and violence rife in her calling as a Lycan Hunter. What she doesn't expect is a handsome, blue-eyed wolf saving her life and kidnapping her. Surrounded by the enemy, Alexis must not only survive her prisoners but the bonds of a different sort that begin to form against her will.

Mikko Kyran was chosen by the gods to lead his pack, and he has made it his mission to end the eight thousand years of war plaguing his people. The Alpha never suspected that the key to the prophecy ending the Forever War would be held by a smart-mouthed, sexy Hunter determined to kill him.

Can two people from different worlds set aside everything they know about one another long enough to survive retribution from the Hunters, the pack, and the gods? Or will their differences start a war that neither can win?
Title: The Lycan Hunter
Series: Gardinian World
Book #: 1
Author: Kelsey Jordan
Approximate Book Length: 308 Pages
Recommended Reader Age: 18+
Sexual Content: Moderate
Thoughts:
It's a whole new world…within our own? This has some good world building, but feels like "high fantasy" rather than "urban fantasy". Humans are discussed, but never seen or dealt with making it feel like a different world entirely rather than just a secret existence within ours.

There's a whole new interesting pantheon, though its politics get a little confusing to follow towards the end. There are ceremonies for EVERYTHING due to this pantheon and it gets a little tedious to read about.

The story itself was a little predictable with a final confrontation that was eventful, but so short it was almost anticlimactic. There were also some loose ends here and there that are never really addressed.

The romance was good though. I was expecting something a little harsher or more hardcore and was pleasantly surprised. The characters were all likeable and had some depth. Lykil was one of the funnest.
Bottom Line:
The Lycan Hunter is a surprisingly emotional read full of interesting new gods and ways of life. Don't miss this start to an intriguing series!
Rating:


Links: