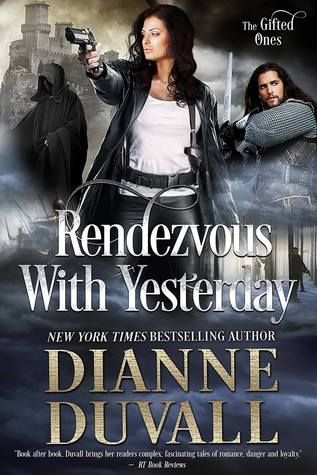 Summary:
Modern-day bounty hunter Bethany Bennett helps her brother track two fugitives to a forest outside of Houston, Texas. But what should have been a routine apprehension of two bail skippers spirals out of control and ends in violence. After Beth and her brother are both seriously injured, a mysterious figure suddenly looms over her. And, when the smoke clears, Beth finds herself not only in another place, but in another time.

As Lord Robert, Earl of Fosterly, attempts to identify and track down the nameless enemy who has been plaguing his lands and people with violence, the most peculiar woman stumbles into his path. Small, vulnerable, yet possessed of a bold, fiery spirit and wicked sense of humor, she persists in dubbing Robert and his men members of something called a medieval reenactment group . . . until she sees his castle and labels herself insane. It seems bounty hunter Bethany Bennett has come to him from the future, bringing with her laughter and chaos, swiftly winning the hearts of his people and inspiring within him a love he thought he would never experience again. But when Robert discovers a way for her to return to her time, will the love they share be enough to keep them together?
Title: Rendezvous with Yesterday
Series: Gifted Ones
Book #: 2
Author: Dianne Duvall
Approximate Book Length: 406 Pages
Recommended Reader Age: 18+
Sexual Content: Moderate
Thoughts:
As usual, Dianne Duvall delivers an enchanting love story. I don't normally like time travel stories, but this one worked for me. Nothing made me think "how does this not affect everything going forward?" That was largely due to the small number of people that end up knowing the truth and what ends up happening to Beth's things from the future.

I loved Robert in Dillon's book and it felt so good to see his story play out. It was incredibly neat to see the story after hearing about it from Marcus in Night Reigns from the Immortal Guardians series. I didn't really know what to expect from Beth or from Marcus, knowing how he felt, and it was sweet and fun. Robert is very chivalrous yet teasing, and Beth is just plain willful, playful, and witty. They made an exciting couple.

I loved all the cameos and how things played out with the time travel. Beth's discovery of what happened is about how I imagine the experience really would be. The romance was fun, sweet, and hot. The story arc regarding the threat to Robert's land was necessary, but also a little anticlimactic. Overall though, it was such a compelling story that I couldn't put it down.
Bottom Line:
Rendezvous with Yesterday is an endearing tale of love and family. It has it all – excitement, tears, suspense, and a little paranormal thrown in. I loved it and can't wait for more!
Rating:



Links: