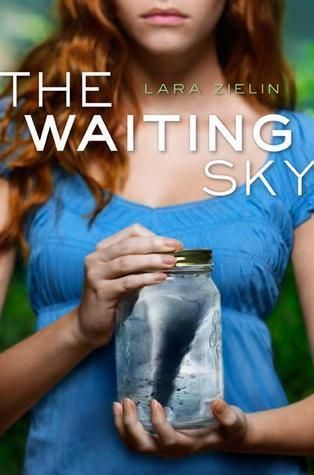 Summary:
One summer chasing tornadoes could finally change Jane's life for the better.

Seventeen-year-old Jane McAllister can't quite admit her mother's alcoholism is spiraling dangerously out of control until she drives drunk, nearly killing them and Jane's best friend.

Jane has only one place to turn: her older brother Ethan, who left the problems at home years ago for college. A summer with him and his tornado-chasing buddies may just provide the time and space Jane needs to figure out her life and whether it still includes her mother. But she struggles with her anger at Ethan for leaving home and feels guilty--is she also abandoning her mom just when she needs Jane most? The carefree trip turned journey of self-discovery quickly becomes more than Jane bargained for, especially when the devilishly handsome Max steps into the picture.
Title: The Waiting Sky
Series: N/A
Book #: N/A
Author: Lara Zielin
Approximate Book Length: 257 Pages
Recommended Reader Age: 13+
Sexual Content: Mild
Thoughts:
This is a story that hit close to home for me. The struggles Jane faces are so authentic it's utterly heartbreaking. The tornado chasing is fun and exciting, and a neat backdrop to the turmoil within Jane. I was so invested in her journey that I cried when she did as well as plenty of other times. I loved her friend Cat, her brother Ethan and the other TorBros, not to mention Max.

The story is beautifully written. I don't normally like flashbacks, but they fit into the flow of this book perfectly. Everything from setting and circumstance to the characters themselves is brought to vivid life seemingly effortlessly. I couldn't put this book down.
Bottom Line:
The Waiting Sky is a story of recovery and family with just a smidgeon of romance tossed in. Lara Zielin delivers a superb read!
Rating:



Links: