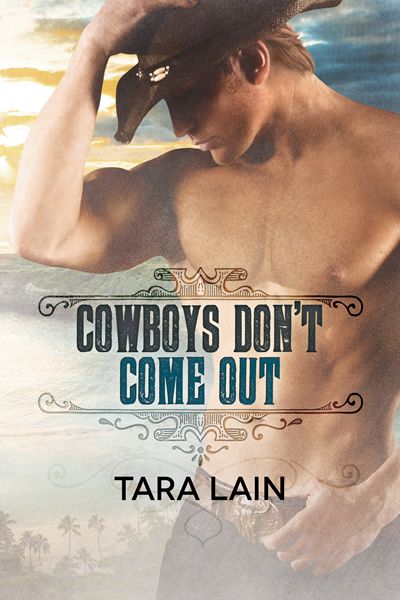 Summary:
Rand McIntyre settles for good enough. He loves his small California ranch, raising horses, and teaching riding to the kids he adores—but having kids of his own and someone to love means coming out, and that would jeopardize everything he's built. Then, despite his terror of flying, he goes on a holiday to Hana, Hawaii, with his parents and meets the dark and mysterious Kai Kealoha, a genuine Hawaiian cowboy. Rand takes to Kai's kid brother and sister as much as he drools over Kai, but the guy sports more prickles than a horned toad and more secrets than the exotic land he comes from.

Kai's earned his privacy and lives to protect his "kids." He ought to stay away from the big, handsome cowboy for everyone's sake—but since the guy's just a haole on a short vacation, how much damage can he do? When all of Kai's worst fears and Rand's darkest nightmares come true at once, there's not much chance for two cowboys who can't—or won't—come out.
Title: Cowboys Don't Come Out
Series: Cowboys Don't
Book #: 1
Author: Tara Lain
Approximate Book Length: 200 Pages
Recommended Reader Age: 18+
Sexual Content: Explicit
Thoughts:
This was a really neat read. While not extensive or anything, I enjoyed all the Hawaiian culture and everything. I felt very immersed in the atmosphere and like I was a part of the story.

Rand has a good, if somewhat empty life, while Kai leads a stressful and secretive one. They bring so much into each other's lives that I hung on every word just to fully experience their journey.

True to form, the author brought forth lovable, endearing characters that I just could not get enough of. The surrounding cast was so essential and fun that I can't even describe them except to say they alone are worth grabbing this book to meet for yourself.
Bottom Line:
Cowboys Don't Come Out is an incredibly sweet start to what's sure to be another great series from Tara Lain. Another must for any genre fan!
Rating:



Available for purchase at
He stopped and tried to hear over the rushing of the surf out beyond the reef if anyone else hid in the dark. No sounds. Fortunately, no big water hit this beach, so he didn't have to worry about getting swamped. Actually, between the lapping waves and the brilliant moonlight, the scene resembled some fairy-tale romance. Fuck that.

Right where the dry sand verged on the wet, he flopped on his butt. What she'd said—that he settled for a good-enough life. That he wasn't happy. Don't I get to decide that?

He leaned back on his elbows. Yeah, but she's right. I created a whole life—as if I was somebody else. Most people find "the one" and build a future so it suits them both. I imagined a cowboy and slid into his boots—Rand McIntyre. Say that with a drawl, son. Just one problem. I'm gay—always have been—and cowboys don't come out. Where does that leave me? A-fucking-lone, pardner. Always will be.

You're not the only gay cowboy.

Have you seen Brokeback Mountain? Shit.

Phosphorescence sparkled on the tops of the waves farther out. Pretty. Guess there could be all kinds of weird man-eating shit in that water.

Do you think more sharks and barracudas swim at night than during the day?

Yeah, right.

He sprang up, stripped his Hawaiian shirt off and tossed it on the sand, then pulled off the shorts his mom had given him. Commando. What would it feel like to have fishes nibbling at his balls? Not like anybody else was doing any nibbling. He strode into the water. Whoa! Not cold, just startling.

When he waded out past his thighs, his penis and balls started to float. He chuckled. Kind of like being a kid in the bathtub. Endless hours of fun playing with your own built-in toys. A few more steps, and he submerged to his shoulders. He gave a tiny shiver. Weird being sunk in inky blackness. Still, the water felt good. He kicked off and swam a few yards out, turned, and stroked back towards shore. He wasn't a good enough swimmer to push his luck alone at night.

After treading water a couple of minutes, he pulled himself back into the shallows and sat on the hard wet beach. He glanced down. Some shrinkage, but his balls still lay on the sand. Remember to rinse them off or you'll itch. Slowly he released his breath. What was he going to do? Answer? Same as always. Nothing. He couldn't risk all the great shit he'd made to try to make it better.

Tara Lain writes the Beautiful Boys of Romance in LGBT erotic romance novels that star her unique, charismatic heroes. Her first novel was published in January of 2011 and she's now somewhere around book 32. Her best-selling novels have garnered awards for Best Series, Best Contemporary Romance, Best Paranormal Romance, Best Ménage, Best LGBT Romance, Best Gay Characters, and Tara has been named Best Writer of the Year in the LRC Awards. In her other job, Tara owns an advertising and public relations firm. She often does workshops on both author promotion and writing craft. She lives with her soul-mate husband and her soul-mate dog near the sea in California where she sets a lot of her books. Passionate about diversity, justice, and new experiences, Tara says on her tombstone it will say "Yes"!
You can find Tara at Lain
Giveaway
a Rafflecopter giveaway
Presented By