BLOG TOUR: Phantom Embrace by Dianne Duvall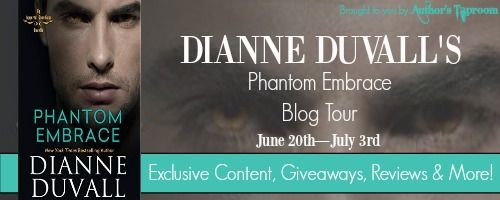 Thanks to Author's Taproom for hosting this blog tour. I'm sharing my review of Dianne Duvall's Phantom Embrace today. Happy reading!
*****************************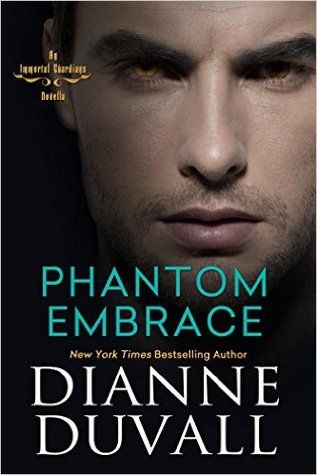 Summary:
Born with the ability to see spirits, immortal Yuri Sokolov avoids making contact with them, because such has always yielded negative results...until lovely Cat Seddon begins haunting his home and his dreams. As a new threat rises against the Immortal Guardians, Yuri disregards all the rules so he can be with Cat, even though the consequences are substantial.

For centuries, Catherine Seddon has been alone. When her brother is forced to join the Immortal Guardians' ranks, she haunts the primary home of the powerful warriors to keep an eye on him, and soon finds herself captivated by Yuri. The handsome Russian immortal swiftly banishes her loneliness as friendship grows between them and deepens into love. But can two people who are unable to touch find a future together?

Previously published in On The Hunt
Title: Phantom Embrace
Series: Immortal Guardians
Book #: 5.5
Author: Dianne Duvall
Approximate Book Length: 120 Pages
Recommended Reader Age: 18+
Sexual Content: Moderate
Thoughts:
This was a rather interesting read. It stands alone fairly well. It's written wonderfully to catch the reader up if they've not read previous books or may have forgotten anything relevant.

I love that Cat was brought back after learning of her terrible demise in book 1. Throughout the series, Stanislov and Yuri have been around, but we have not really gotten to know them much as they've merely been supportive roles. Now we get to know them a bit better, Yuri in particular (obviously). I have mixed feelings on the end, but I'm ultimately glad they got their HEA.

I have a couple things to question though. How did Seth and David not know what was up with Yuri and Cat? I suppose they have too much to keep tabs on to notice something so relatively trivial. I also have some theories on Stan's fate (that I can't share here due to spoilers), but I'm losing hope that I'm right.

I am not normally a fan of ghost stories, so while I definitely got into this one, I didn't quite enjoy it as much as Richart's, but this one had a lot more going on. I look forward to the next book regardless. I can't get enough of this world!
Bottom Line:
Phantom Embrace is a sweet and exciting love story about two unlikely lovers. It's a just plain cool read that had all the elements I've come to love from Dianne Duvall.
Rating:



Links:
*****************************
About the Author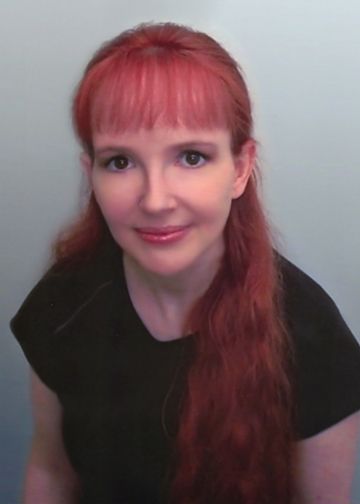 Dianne Duvall is the New York Times and USA Today Bestselling Author of the Immortal Guardians paranormal romance series and The Gifted Ones series. Her books have twice been nominated for the RT Reviewers' Choice Award for Best Vampire Romance and are routinely deemed Top Picks by RT Book Reviews, The Romance Reviews, and/or Night Owl Reviews. Reviewers have called Dianne's books "utterly addictive" (RT Book Reviews), "fast-paced and humorous" (Publishers Weekly), "extraordinary" (Long and Short Reviews), and "wonderfully imaginative" (The Romance Reviews).
Dianne loves all things creative. When she isn't writing, Dianne is active in the independent film industry and has even appeared on-screen, crawling out of a moonlit grave and wielding a machete like some of the vampires she has created in her books.
For the latest news on upcoming releases, contests, and more, please visit www.DianneDuvall.com. You can also find Dianne online . . .
Find the author:
Website
Facebook
Twitter
a Rafflecopter giveaway