REVIEW: Call Me Maybe by Ellie Cahill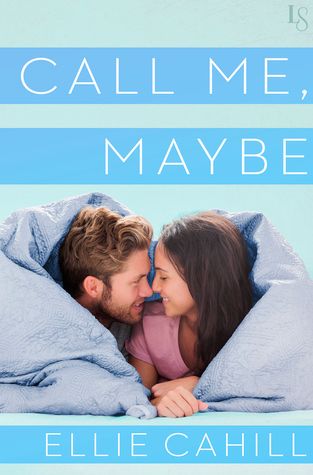 Summary:
Clementine Daly knows she's the black sheep. Her wealthy, powerful family has watched her very closely since she almost got caught in an embarrassing scandal a few years ago. So when Clementine's sent on a mission to live up to the Daly name, politely declining isn't an option. Of course, the last thing she does before boarding the plane is to grab a stranger's phone by mistake—leaving the hunky journalist with her phone. Soon his sexy voice is on the line, but he doesn't know her real name, or her famous pedigree—which is just the way Clementine likes it.

Despite all the hassles, Justin Mueller is intrigued to realize that the beautiful brown-eyed girl he met at the airport is suddenly at his fingertips. They agree to exchange phones when they're both back in town, but after a week of flirty texts and wonderfully intimate conversations, Justin doesn't want to let her go. The only problem? It turns out that Clemetine has been lying to him about, well, everything. Except for the one thing two people can't fake, the only thing that matters: The heat between them is for real.
Title: Call Me Maybe
Series: N/A
Book #: N/A
Author: Ellie Cahill
Approximate Book Length: 242 Pages
Recommended Reader Age: 18+
Sexual Content: Moderate
Thoughts:
I've read other books with a similar premise to this and it's predictable, but just fun! This one was well paced with characters I really liked. I loved the conflict and everything. The phone scenes were almost better than the in-person scenes, but were all around great – especially with how they seduced each other.

My only complaints about this book is that there seemed to be a couple things missing, such as reactions to her big reveal to her grandparents, and the ending. First, he's in a hurry, but suddenly has time for a heart to heart and naughty fun? The biggest disappointment about the ending is that it's more of a HFN than a HEA which I prefer, but I suppose the HFN is more realistic.
Bottom Line:
Call Me Maybe is a fun and emotional read that goes pretty quickly.
Rating:



Links: