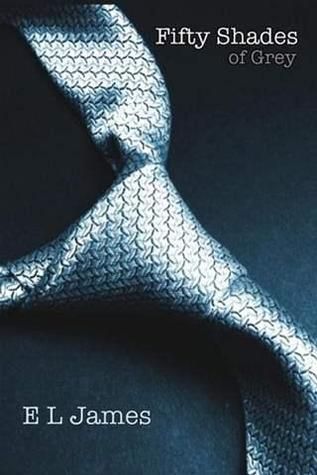 Summary:
When literature student Anastasia Steele goes to interview young entrepreneur Christian Grey, she encounters a man who is beautiful, brilliant, and intimidating. The unworldly, innocent Ana is startled to realize she wants this man and, despite his enigmatic reserve, finds she is desperate to get close to him. Unable to resist Ana's quiet beauty, wit, and independent spirit, Grey admits he wants her, too—but on his own terms.

Shocked yet thrilled by Grey's singular erotic tastes, Ana hesitates. For all the trappings of success—his multinational businesses, his vast wealth, his loving family—Grey is a man tormented by demons and consumed by the need to control. When the couple embarks on a daring, passionately physical affair, Ana discovers Christian Grey's secrets and explores her own dark desires.
Title: Fifty Shades of Grey
Series: Fifty Shades
Book #: 1
Author: EL James
Approximate Book Length: 530 Pages
Recommended Reader Age: 18+
Sexual Content: Explicit
Thoughts:
*I don't usually write "bad" reviews, because I don't want to be rude. This one however is a HIGHLY popular trilogy and I finally read it to see what all the fuss was about. I'm sharing my honest opinion.*

First of all, I went into this book knowing all the hype and that it began as Twilight fan fiction. I don't like fan fiction so that's already a strike against it, fair or unfair. It also means that I spent a great deal of the book (and its sequels) comparing the two. I love Twilight, but I can also see the controversial elements such as the impression that Bella is in an abusive relationship with Edward, though I disagree. 50 Shades just emphasizes this aspect and more. Christian Grey is a truly twisted jerk, but eventually he shows a softer, more playful side. I give props to Ana for sticking around that long, because no matter the level of attraction, I wouldn't have made it to that point. It was enough to keep me reading though.

The writing is frankly pretty bad. Ignore everything you know about grammar and the English language if you want to read it. Then comes the story and the characters. The story is about an unrealistic scenario to begin with and the characters are inconsistent and extremely aggravating. The only reasons I kept reading were that I already had the next book and I really wanted to be able to say I'd read the trilogy.
Bottom Line:
Fifty Shades of Grey is an aggravating start to a strangely wildly popular trilogy.
Rating:
N/A
Links: