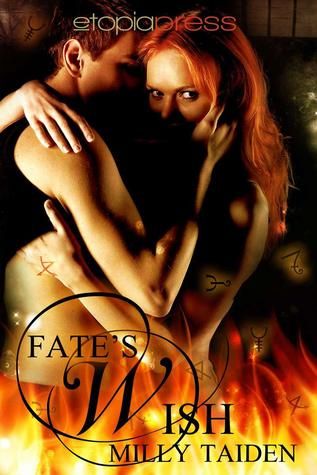 Summary:
The man she loves left her, but he's the only one that can protect her. Sharmila is a witch with a problem. Her magic is waning. And her lack of sex may have something to do with it. Her mother's solution? Easy. Sharmila needs to get laid. Easier said than done, though, because Shar is still in love with the only man to make her melt, Zahir Darkwrath. Her missing husband. Her demon. Zahir knows he's a danger to Shar, so he's done his best to stay far away. Darkness flows through his being, and when emotions run wild, destruction rages around him. And sex with Shar is definitely wild. Staying away from the woman he loves is the hardest thing he's ever done, but hurting her would be far worse. So he's astounded when Shar's mother hires his company to watch over her. Evil is heading Shar's way, and Zahir is the only one who can stop it. To save her, Zahir will need more than control; he'll need the power of his own darkness--which might be his undoing.
Title: Fate's Wish
Series: N/A
Book #: N/A
Author: Milly Taiden
Approximate Book Length: 57 Pages
Recommended Reader Age: 18+
Sexual Content: Explicit
Thoughts:
This story was both dramatic and funny. The relationship between Sharmila and her mother is such that they talk about their love lives. I don't know how I'd react if my mother told me I needed to get laid! The history behind Sharmila's marriage to Zahir is kind of sad, but that's what adds the drama and interest. The magic is pretty cool and used in very creative ways *wink wink*. I will say that the conflict was a little two dimensional making it very predictable and the whole plot seemed a little rushed and just too easy. That being said, it had a cute ending and even sounded like there might be a sequel sometime.
Bottom Line:
Fate's Wish is a story of reconnecting, supportive friends and family, and magic. Filled with fun and sizzling love scenes, it will satisfy your craving for a quick paranormal erotic read!
Rating:


Links: