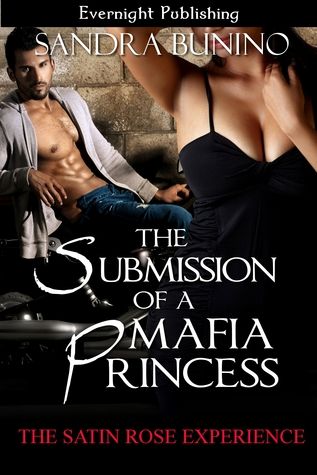 Recap:
Toni has lived her life in the shadow of her mob boss father and his associates, but meeting Brax changes all that by making her feel alive and free, until they were brutally torn apart. Brax survived the wrath of the mob, but not without scars both physical and emotional. He's vowed never to let a woman get under his skin again, but what happens when their paths cross once again at The Satin Rose Experience?
Title: The Submission of a Mafia Princess
Series: Satin Rose Experience (SRE)
Book #: 3
Author: Sandra Bunino
Approximate Book Length: 30 Pages
Recommended Reader Age: 18+
Sexual Content: Moderate
Thoughts:
Who doesn't love a reunion plot line? Brax and Toni were both very compelling and their story is sad, but oh so heartwarming. There are a few predictable twists, but also some surprises providing that much more enjoyment from the storyline. I adored Jackson's cameo (from book 2) in this one and how Asher and Mia who started it all are involved in each story as well.

Mostly I appreciated the chemistry between Brax and Toni. She grew up believing certain things about herself, but he made her break free of those preconceptions and feel beautiful and desired. While it was a very sexy read, it was only erotic in certain parts and otherwise pretty sweetly sensual.

Basically, Sandra Bunino does it again with the third installment of her SRE series. I'm not always a fan of mob related storylines, but this one was very well done and it added a danger factor as well as a tragic past to overcome. It made for an exciting read. I'm looking forward to the next one, especially after that ending…
In Conclusion:
I've thoroughly enjoyed each story in the series so far, but this is definitely among my faves so far. Flashbacks give you backstory and mafia drama gives you suspense when things resume for Toni and Brax. Pick this one up for an awesome read!
Rating:



Links: