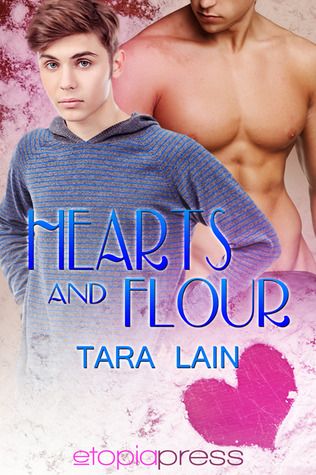 Recap:
Micah is a health food fanatic and he enjoys teaching his customers how to live healthy and eat raw food. Then, they start arriving with cupcake poison. To add to that betrayal, he goes home to find his boyfriend in bed with someone else. After throwing him out, a friend convinces him to go to an anti-Valentine's party where he meets someone new much to his surprise. Cupcake baker Quentin wears women's clothes, but only when he can get away with it. He doesn't want his grandmother to know since he's never even told her he's gay. Then he meets a guy at a party and thinks he might be able to be happy with who he is…until truths come out and complications arise.
Title: Hearts and Flour
Series: N/A
Book #: N/A
Author: Tara Lain
Approximate Book Length: 91 Pages
Recommended Reader Age: 18+
Sexual Content: Explicit
Thoughts:
This story was just heartwarming and adorable. The cross-dressing is a bit awkward for me, being new to reading about it, but even that's kind of addressed in the book as Micah gets used to it too. Turns out to be kind of a fun quirk in the end and it wouldn't have been the same without that element.

The raw food vs floury cupcakes battle was both funny and frustrating. Micah is almost obsessive about his food, so he loses his cool and takes it personally when his loyal customers show up with the treats that will ruin all the hard work they've put in to get healthy. The progression of that plot line actually turns out pretty sweet.

There were some heartbreaking parts, when the ex re-enters the picture and of course the confrontation over the dreaded cupcakes. However, true to Tara Lain's style, they're absolutely worth getting through as the resolution is satisfying and just so light-hearted.
In Conclusion:
Another beautiful and endearing story of self-realization, self-acceptance, and love from this author, Hearts and Flour is not to be missed. It's compelling from the first word to the last, and will leave you with a smile.
Rating:


Links: