Thanks to Bewitching Book Tours for hosting this blog tour. I'm promoting Ocean Kills today while the author, Jade Hart talks about her upcoming release. Enjoy!
*****************************
This month, Ocean Kills is on tour. I love to write Urban Fantasy but I also write NA Contemp Romance, too.
Here is a little information on an upcoming release, due out March 2013.
COFFEE & COCKPITS
Goodreads
Blurb: A New Adult Contemporary Romance, featuring Nina Poppins, a flight attendant, who can't decide if she wants the sexy co-pilot or the yummy engineer… and ends up having both.
~~~~~
By day, Nina Poppins is a professional flight attendant, who lives to travel, and isn't afraid to chase her dreams. By night, she's an award winning salsa dancer who wears sexy corsets and garter belts. She keeps her two lives separate, and none of her colleagues suspect that cool, demure Nina has a hot, spicy side.
Liam Mikin is a co-pilot who can get any air-hostess he wants with one blazing look of his blue eyes. But for some reason he can't get Nina. He senses there's more to her beneath the professional cool shell, and he's determined to find out what it is.
Nikolai Rivers is an aircraft engineer who can dance as well as Nina and enjoys getting hot and heavy with her on the dance floor. But frustration chafes him at being held at arm's length. However, his opportunity to break her exterior comes when an airplane malfunctions on a flight to Samoa, stranding all the crew on the Pacific island indefinitely.
Liam and Nikolai see each other as a challenge and start a race to be the first to break Nina's aloofness, but what they didn't count on was falling for her, or worse, having to share….
*****************************
About the Author
Jade Hart is a self-confessed book worm who is happiest glued to a lap-top with an eternal battery life, and typing up stories running rampant in her head.
Her three favorite things are:
1. Unlimited books on an Ebook Reader
2. Cracking the sugar on a creme brulee
3. Travelling
Jade currently resides in Middle-Earth, but has lived in Australia, England, and Hong Kong.
She writes New Adult 'smexy' fiction.
Find the author:
Blog
Falling For Fiction
Twitter
Facebook
Goodreads
Ocean Kills Available Now!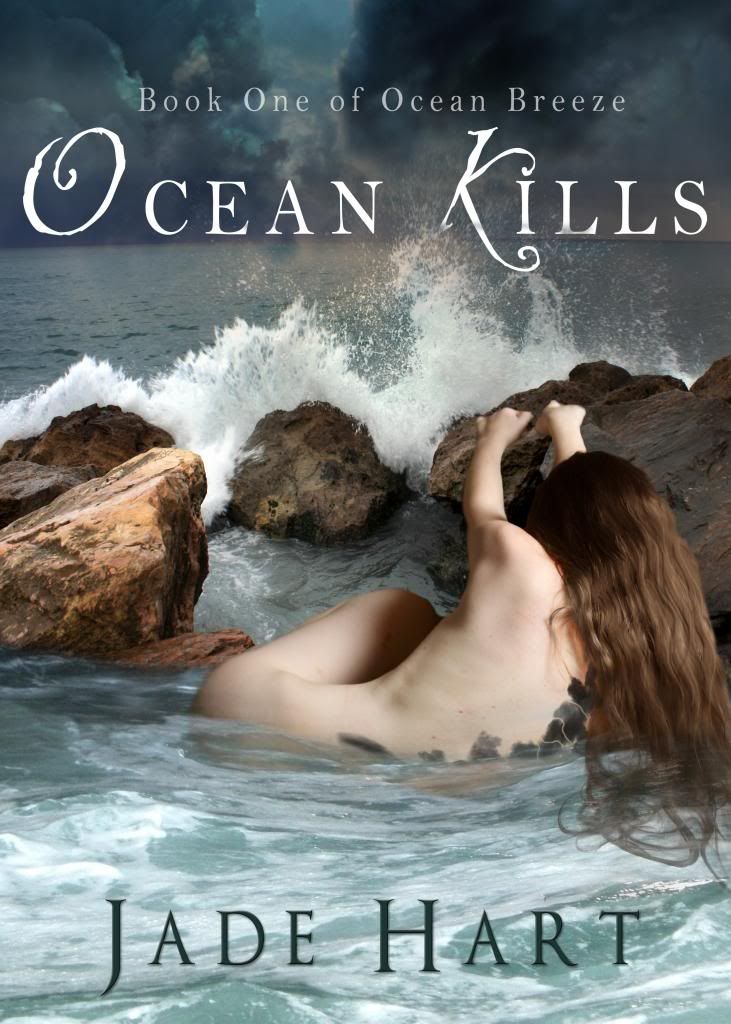 Around the world, murderers and rapists pick off the innocent. Killing loved ones, separating families, and ruining lives.

As an eight-year-old girl, Ocean witnessed her family's massacre and something altered inside her. Twisting her genetic code… unlocking an ability to teleport.

Ocean Breeze was never destined to be normal, especially being named after air-freshener. She's a shadow, a ghost—a dark savior of the innocent. Armed with a switchblade in her bra, and a box-cutter in her pocket, she hunts the filth of the world.

Callan Bliss is a Sydney Police Officer whose skill set is far above a normal cop. All his fellow officers see is a hard-worker who loves to catch perpetrators and surf, but that's because they don't know his past. When Callan arrests a suspicious looking prostitute, coming face to face with a self-confessed vigilante, his secrets aren't that easy to keep silent anymore.

Ocean hates the police with a passion, and has no intention of being held captive by a cop, even if he is sexy as hell. Teleporting from under his nose, Ocean hunts her next target—a man responsible for the largest sex ring in South Africa—and he's about to die. But she doesn't count on Callan giving chase, nor the body-quaking lust which consumes them. However, Ocean's dark hobbies take precedence over what her heart wants—her thirst for murdering is killing her too, and not even Callan can save her.