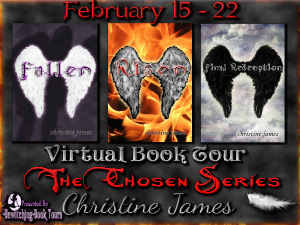 Thanks to Bewitching Book Tours for hosting this blog tour. I have Christine James here today sharing her playlist for The Chosen Series. Let's give her a warm welcome!
*****************************
When I write I am taken to a completely different world. Like movies with amazing music scores, I have certain scenes I picture with certain songs. I listen to a wide range of music though; classical; rock; blues; alternative; punk. The lists of songs below are only a few of what I listened to as I wrote this series. These are the songs that I pictured in some of the intense scenes, and when I played them, I found it often helped.
FALLEN:
Hells Bells - AC/DC
The Crossroads - Bone Thugs-n-Harmony
More Human than Human - White Zombie
If Everyone Cared - Nickelback
Fallen Angels - Black Veiled Brides
Iris - Goo Goo Dolls
You and Me - Lifehouse
I don't care - Apocalyptica
Risen:
Because of you - Nickelback
I hate myself for loving you - Joan Jett and the Blackhearts
Turn the page - Bob Segar
Back in Black - AC/DC
Far Away - Nickelback
Behind Blue Eyes - Limp Bizkit
The Joke - Lifehouse
I can't fight this feeling - Chicago
Far From Home - Five Finger Death Punch
Never Should've let you go - Saliva
I walk alone - Saliva
Final Redemption:
The Death and Resurrection - Killing Joke
Here without you - Nickleback
Hunt you down - Saliva
Here I go Again - White Snake
End of Me - Apocalyptica
Better Than Me - Hinder
Far Away - Hinder
Hero - Nickelback
Lips of an Angel - Hinder
Gotta be Somebody - Nickelback
Wanted Dead or Alive - Bon Jovi
Never Should've let you go - Saliva
One more Chance - Saliva
Badass - Saliva
*****************************
About the Author
I'm a born and raised small town girl. I love fishing, camping, big and loud trucks, but don't let my boots fool ya, I can slip out of my boots and into a pair of heels in no time flat! I love books and movies and it seems that there is never enough time to read or watch them all. I bake and decorate cakes (in my free time) pffft what's that right?
My husband is my world. He has been my cheerleader as I strive to achieve my writing goals; he's helped pick me up and dust me off when I get rejected; he laughs with me, and more times than not he laughs AT me, and he lends a shoulder for me to cry on. He's my rock but more importantly he is my best friend. We have two beautiful sons, Dillyn (8) and Traben (2). They are my angels and by becoming an author I want to show them that their dreams can come true. I have something that not many people can brag about. I have my parents (both amazing God Fearing people married 31 years) and my AMAZING in-laws (married 44 years) these two couples are part of my inspiration. I am also fortunate to call my three younger brothers my best friends. I have a few close friends that have helped me come so far.
I value my relationships and treat them all like rare gems, because they are all special and unique in their own way. I love making people laugh, no matter what. Life is too short to be so serious all the time.
Writing has always been a dream of mine. It's been a comfort when I'm hurting and an outlet when I'm mad. It is my security blanket.
Find the author:
Website
Facebook
Twitter
Goodreads
Fallen
Angelo searched for the one to save them for centuries. Never in his wildest dreams did he expect it to be a girl. From the beginning, he was drawn to her, but how could such a slip of a girl be the one to save mankind. He was supposed to train her and explain what she was, but how could he do his job and resist her at the same time? Could he put attractions aside and focus on his job and what he needed to do?

It was just supposed to be a fun night at their small town carnival, but a bizarre encounter with a mysterious fortune teller changed Erin's life forever.

Then there was the stranger, the man who she literally ran into. A beautiful stranger that wouldn't leave her thoughts and who suddenly haunted her dreams. Something about him pulled her to him, like an anchor sinking to the bottom of the ocean. Little did she know her life was about to change when he revealed to her that she wasn't exactly human, and that she was destined to fight the most powerful evil on earth.

Erin's life collided with Angelo's, and now they are both in for a ride as they fight for the world, and fight their attraction for one another.

***This book contains violence, adult content, and mild language.
Risen
Blaze and Angie were happy, or so she thought. There was a restlessness growing inside her that not even she could explain. How could she trust his love when she wasn't able to trust herself?

They thought the battle was finished when they sent Satan back to hell, so how could they have known another threat, larger than Satan himself, was looming on the horizon? This time the stakes are higher and the game much more deadly. Something is coming and it will shatter everything they have ever known. Can they stop it before it has Risen?
Final Redemption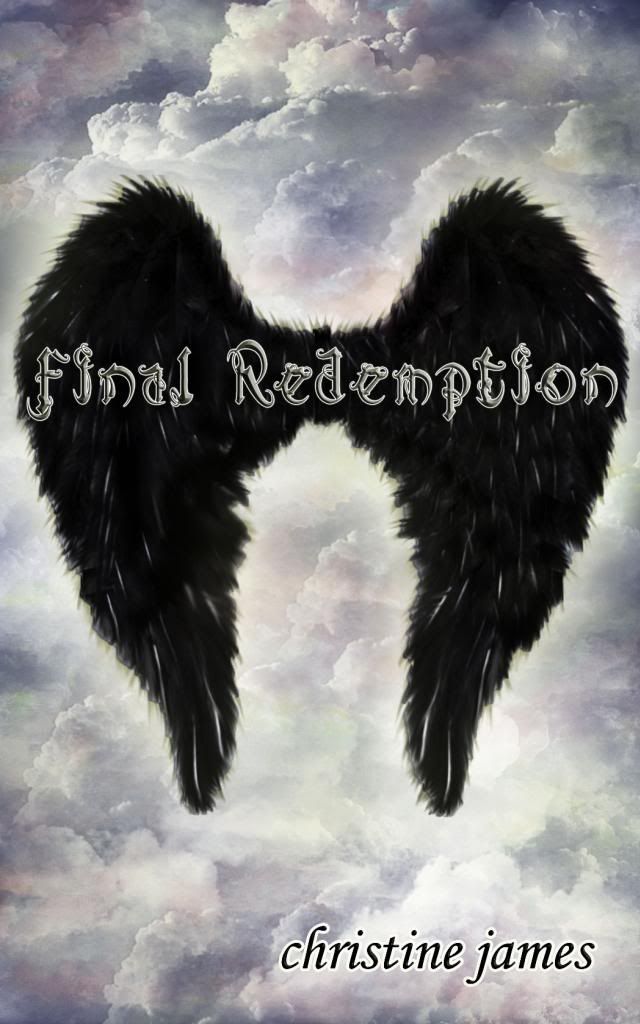 With Lilith on the loose and their circle fractured, The Chosen are wandering around lost, broken, and confused. Their friendships are being tested as well as their trust in one another. They've lost one of their own, and now new questions keep surfacing as a bout of unusual occurrences take place. What they didn't expect was an evil worse than Lilith herself in the works. Come join the Nephilim on one last journey.