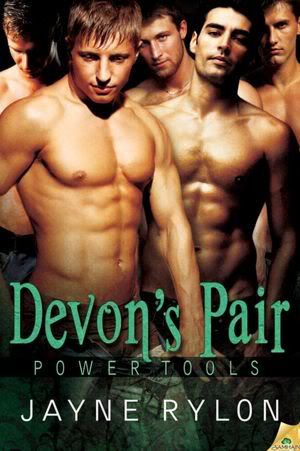 Recap:
James has watched, and participated, as each member of the crew has found love until only he and his life partner, Neil, remain. When he sees his lover ogling the crew's new apprentice, he's certain he's doomed to lose him. He wants the love of his life to be happy, so he's resigned to walking away if and when he has to, but sparks fly between all three of them unexpectedly. Is it possible that he won't have to surrender? Just maybe they can build a life together, along with the rest of the crew.
Title: Devon's Pair
Series: Powertools
Book #: 4
Author: Jayne Rylon
Approximate Book Length: 85 Pages
Recommended Reader Age: 18+
Sexual Content: Explicit
Thoughts:
Here we have a ménage within a ménage story. Yeah there's the group fun, but there are also three focal characters as opposed to two. Neil and James have always been the only two of the crew who were a couple already, but when the tomboy, Devon, enters the picture, they're a little thrown. James is so understanding about Neil and Devon that it hurts. When they work it out at the end, it's such a warm and fuzzy feeling.

This is also the first book where we get everybody together again, and I mean everybody. I love the creativity that Jayne shows through her characters and how comfortable everybody is through the whole thing. So, so sexy, and a lot of fun. I use both of those terms a lot when I refer to these books, fun and sexy. That's because the whole series really is both of those! Getting everybody together and introducing a new element besides a simple ménage session really brings back the essence the first one had that made it so great.
In Conclusion:
Devon's Pair brings back the magic from book 1 and takes you on an emotional trip. There are some heartbreaking moments, but they're balanced out with heartwarming resolutions, and there's times you'll laugh, and times you'll blush. Excellent sequel that hints to more excitement to come in book 5!
Rating:



Links: