Thanks to Book Trailer Showcase for hosting this blog tour. Have a peek into the mind of M. Christian, author of Stroke the Fire. Here's here today to share a little bit about what it's like for him as a gay romance author. Happy Reading!
*****************************
Queerer Than You Can Imagine
Wanna hear a funny ... well, if not funny then at least odd ... story? In a previous installment you heard of my journey from amateur to professional writer. Pornographic (mostly), but a professional writer nonetheless.
Since I published by first story in 1993 I've been – to put it mildly – writing up a storm. I'm not going to inflict my entire bio on you (that's at the bottom of this piece as well as on my site at www.mchristian.com) but let's just say that I've written quite a few stories – that have been collected into quite a few collections – as well as more than a few novels.
Onto the funny: quite a few of those stories, more than a few of the collections, and most of those novels – plus a serious number of anthologies where I've been an editor – feature gay or lesbian characters. In fact I've had stories in the celebrated Best Gay Erotica, Best of the Best Gay Erotica, Best Lesbian Erotica, Best Bisexual Erotica, Best Transgendered Erotica, and I was even a finalist for the gay literature award, the Lambda's...
Anyway, I think you get the build-up, so here's the punchline:
I'm straight.
Not even bisexual. Oh, sure, I've gotten more than a few offers (very flattering) but, as I like to say, Mr. Happy only responds to women. Now I also like to say I'm politically gay in that I vote a very purple ticket and consider gay rights to be the litmus test for any politician, nation, city, and so forth; socially bi in that I have no problem kissing and telling my male friends that I love them; and sexually ... like I said: straight.
Now I want to be very clear that my reason for being a non-queer author in a queer world did not spring from any kind of deception: I am very out about being a straight guy (though a few of my gay friends don't believe me), and when I teach classes in smut writing I tell my students – with great emphasis – never to lie about who they really are to sell a story.
How I got to where I am is actually a simple – but important – story, especially for writers. It started very simply: a friend of mine suggested writing a gay story for a special anthology. Now, I had never thought about anything like that – hell, I'd only just selling stories so I hadn't considered much of anything – so I gave it a shot. Surprise: it was bought. This put me on the gaydar, so to speak. Soon I was not just writing gay (and lesbian) stories but editors and publishers were actively seeking me out to write for them. No dummy, I wrote what people wanted to buy ... which puts me close to where I am now.
While I may, at worst, be a literary opportunist – one of my taglines is, after all, is that I'm A Literary Streetwalker With A Heart of Gold – I truly feel honored to be not just accepted but in many ways honored by the gay and lesbian community. I've been brought to the verge of tears more than once by a gay, lesbian, bi, or transgendered person telling me that anything I wrote has touched them, or when a member of the community asks me to write for them.
In this, I feel, is a lesson for any writer: I did not know – at all – that I could write queer stories until I tried. Who knows what you could be good at until you try? I tell my students all the time to try, experiment, with everything and anything – even if it's something you may not even like. The worst that happens is that you find out that a certain genre is not for you, but then you could be wonderfully surprised that you not only enjoy, but are quite good at, writing for that genre.
Stretch, play, have fun, try, experiment ... in writing but also in life, to get a bit philosophical.
Before I close, I want to touch on one final thing. Often I get asked is how I can write about characters that don't share my sexual orientation. Now, writing beyond yourself is what fiction is all about: horror writers don't really kill people, science fiction authors don't – mostly – come from other worlds ... you get the idea. Fiction is fiction, and good fiction suspends our disbelief to the point where we forget that what we are reading isn't exactly true.
But I do have one bit of advice that's come from being a straight guy in queer clothing: I don't write about queer characters ... I write about
people
.
While I may not know what being a gay man is actually like, and I'm not equipped to know a lesbian one, I do know about hope, fear, delight, wonder, the giddy thrill of arousal, the nervousness that comes with the first few moments of sex, the lightheaded joy that comes when lust turns into love ... I may not know a few (ahem) details but I know what it means to be a human being, and no matter what anyone says we are all, down deep where it matters, more alike than not.
Yes, I write about gay characters, but – following my own advice – I am also constantly trying to expand my repertoire: challenging myself as much as possible. I've tried my hand at romance, horror, science fiction, non-fiction, mysteries, historical ... sometimes I succeed, sometimes I feel I need a lot more work ... but no matter what I write, and where my life goes from here, I will always hold in the depths of my heart a love for all the gay men and women who have been so kind and supportive of me and my work.
I may not know everything about what it means to be queer – but I certainly, absolutely, totally know what love feels like.
*****************************
About the Author
M.Christian has become an acknowledged master of erotica, with more than 400 stories in such anthologies as Best Gay Erotica, Best Best Bisexual Erotica, Best American Erotica, and Best Fetish Erotica. He has had three collections of stories about men who love men published, Body Work, Filthy Boys, and Dirty Words, which was a Lambda Award finalist. And he is the author of two man-love novels, the vampire classic, and Me2, a gay thriller. M. Christian is also a veteran anthologist, and with more than 25 to his credit, including the Best S/M Erotica series; Pirate Booty; My Love For All That Is Bizarre: Sherlock Holmes Erotica; The Burning Pen; Garden of Perverse, and others. Sizzler Editions/Attraction, a glbt imprint, recently issued his personal selection of his best gay erotica in the ebook, Stroke the Fire. A genre-busting author, M. Christian has also written non-fiction (Welcome to Weirdsville, How To Write and Sell Erotica), as well as lesbian, straight, futuristic, fantasy and horror erotica. All three of his gay male collections, both novels, and Stroke the Fire have all recently been released as M. Christian's The ManLove Collection .
Find out more about M. Christian on his
Website
or find him on
FaceBook
.
Stoke the Fire Available Now!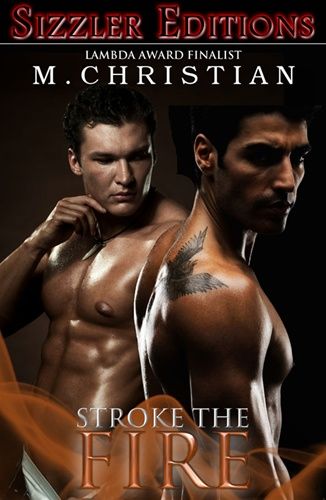 The Best ManLove Stories of M. Christian

Sizzling tales of bad boys, bruised hearts, and sweaty encounters. Lambda Award finalist M. Christian's stories of men-who-love-men have been selected for Best Gay Erotica, Best American Erotica, and Best of the Best Gay Erotica. Eavesdrop on what hot men who are doing hot things with other hot men say to each other between the sheets ... and up against the wall. Start reading the fiery ManLove fiction of M. Christian with this personally selected collection of his best. "A wonderful book … just the thing if you are in the mood for an enjoyable quickie (or twenty)." -Mathilde Madden, author Reflection's Edge. [Don't miss the other books in "M. Christian's ManLove Collection from Sizzler Editions.] And don't miss his Lambda Finalist book, Dirty Words. "Fairy tales whispered to one another by dark angels whose hearts and mouths are brimming with lust." -Michael Thomas Ford, Lambda Award winning author Looking for It.
Buy Links:
Amazon
Barnes & Noble
***There are two giveaways! First is a giveaway for this stop on the tour and the prize is a copy of Stroke the Fire and The Very Bloody Marys. Second is a tour wide giveaway of all six books in his ManLove Collection. Enter via the Rafflecopters below!***
a Rafflecopter giveaway
a Rafflecopter giveaway