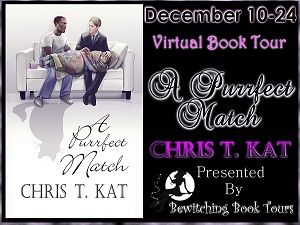 Thanks to Bewitching Book Tours for hosting this blog tour. What's in a name? Referencing A Purrfect Match, here's Chris T Kat's take on how important names are for characters in a story.
*****************************
One question I've seen a lot in interviews goes along the lines of "how important are character names for you, and how do you go about naming them?"
I'm always struggling with an answer to this question. I know a lot of people research names, so the meaning of the name fits the character, etc., and I admire these writers for it.
My approach is much simpler. I have a list with names that I like. First, this list only existed in my head, but lately it made its way onto paper. Sometimes a character pops up and I immediately know his name. Other times, I can only "see" the character, but no name seems to be fitting. When that happens I consult my favorite list. If that still doesn't work, I browse through various sites with baby names. Depending on what time period the story is set, I make sure the name was popular when the character was born.
Usually I go for common names instead of unusual ones. Often I chose names, which allow for abbreviations. In
A Purrfect Match
, Andrew's parents introduce Jim to Andrew's nickname—Drew. Andrew's son is called Tony, even though his full name is Anthony. (Side-note: Tony's original name was Danny, short for Daniel, but the visual similarity to "Daddy" was too distracting, so he got a completely new name.)
I also have a very soft spot for nicknames. Interestingly enough, only Andrew and Tony received nicknames. Jim is just Jim, except when he's Mr. Frosty. ;-)
*****************************
About the Author
Chris T. Kat lives in the middle of Europe, where she shares a house with her husband of almost 15 years and their two children. She stumbled upon the M/M genre by luck and was swiftly drawn into it. She divides her time between work, her family—which includes chasing after escaping horses and lugging around huge instruments such as a harp—and writing. She enjoys a variety of genres, such as mystery/suspense, paranormal, and romance. If there's any spare time, she happily reads for hours, listens to audiobooks, or crafts.
Find out more about her on her
Blog
or
LiveJournal
, follow her on
Twitter
, or friend her on
GoodReads
.
A Purrfect Match Available Now!
When a bad day at work culminates in losing out on a promotion, Jim Sanders shifts into his animal form to let off steam. Then his bad day turns into a bad night—while prowling his Atlantic City neighborhood as a large gray house cat, he's caught in a torrential downpour. What little luck he has washes down the gutter when his new boss, Andrew Wright, catches him taking shelter on his porch, brings him inside, and starts calling him Mr. Frosty.

As a feline, Jim becomes the inadvertent confessor for his boss's lonely son, Tony, a victim of schoolyard bullying. As a human, he feels drawn to Andrew, a man he wanted to resent. Finding love was never part of Jim's plan for the future—not with his bizarre secret—yet suddenly he finds himself navigating that minefield anyway. But not everything is easy, especially for an interracial gay couple dealing with prejudice in the workplace, at Tony's school, and even within their own families.
***Up for grabs on this tour are three e-copies and two paperback copies of A Purrfect Match. Enter via the Rafflecopter below!***
a Rafflecopter giveaway