Thanks to Bewitching Book Tours for hosting this blog tour. Hear what Milly Taiden has to say about titles. Happy reading!
*****************************
Believe it or not, I'm one of those weird authors that cannot write until I have the absolute perfect title for my book. I mean I get stuck and it's just like a big wall has been erected (lol) in front of me. So I can spend days thinking up the right title. For Fate's Wish it was easy. The book kind of gave it away. I kept thinking how their getting back together was fate. No matter what they tried, they would always be pushed back together by love. Titles can make a person give a book a second look and capture reader attention from the get go. I like to make sure my titles have something to do with the story. I hate picking up a book that's called Angel's Demise and there's nothing in there with angel, references to angels or even a town called angel. LOL. Titles can be very important and so I am very particular about choosing a good one and making sure it fits the story.
*****************************
About the Author
Milly Taiden was born in the prettiest part of the Caribbean known as the Dominican Republic. She grew up between New York, Florida and Massachusetts. Currently, she resides in New York City with her husband, bossy young son and their little dog Speedy.
She began writing when she learned to put words together and her first book consisted of two homeless dogs living in a park for her second grade English class. She didn't win a prize, but she acquired a love for writing that never went away.
When she's not working full-time, texting with her best friend Heidi in England, chastising her son for pulling the dog's ears, shopping with her sister Jewel or watching scary movies with her husband, she can be found writing on her laptop. She's addicted to shoe shopping, chocolate and Dunkin Donuts coffee.
A major reader when she can get her hands on a good book, she loves reading all Mina Carter, Cynthia Eden, Cynthia Sax among others.
Find out more about Milly Taiden on her
Website
, follow her on
Twitter
, or like her on
Facebook
.
Fate's Wish Available Now!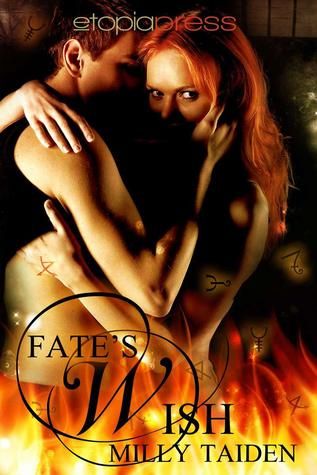 The man she loves left her, but he's the only one that can protect her.

Sharmila is a witch with a problem. Her magic is waning. And her lack of sex may have something to do with it. Her mother's solution? Easy. Sharmila needs to get laid. Easier said than done, though, because Shar is still in love with the only man to make her melt, Zahir Darkwrath. Her missing husband. Her demon.

Zahir knows he's a danger to Shar, so he's done his best to stay far away. Darkness flows through his being, and when emotions run wild, destruction rages around him. And sex with Shar is definitely wild. Staying away from the woman he loves is the hardest thing he's ever done, but hurting her would be far worse. So he's astounded when Shar's mother hires his company to watch over her.

Evil is heading Shar's way, and Zahir is the only one who can stop it. To save her, Zahir will need more than control; he'll need the power of his own darkness–which might be his undoing.