Here today to talk about love scenes and share a bit about her upcoming work is the lovely Sandra Bunino! She's a wonderful author and I am very much looking forward to her free serial! Happy reading :D
*****************************
Hi BK! Thanks for having me to your virtual home again. *mwah*
Love scenes. They make us swoon, squirm and turn to mush inside don't they? As an erotic writer, I aim for that reaction on a regular basis. So needless to say I'm a huge fan of them! Here's my pick of the top 5 love scenes of all time:
1. The rowboat and following the make-up kissing in the rain scene from
The Notebook
(2004) - best chick-flick ever!
2. The subway scene from
Risky Business
(1983). The background song,
In the Air Tonight
, really upped the sexy factor.
3. Steamy unlocked car in the storage bay scene from
Titanic
(1997), the topless sketch scene deserves a mention too.
4.
Ghost
's (1990) famous pottery wheel scene with Demi Moore and Patrick Swayze.
5. Lastly, the ending scene of
An Officer and A Gentleman
(1982) where Richard Gere carries Debra Winger out of the factory in his uniform makes me cry.
Ever since Tom Cruise and Rebecca DeMornay's sexy as sin train scene in the 1980's classic
Risky Business
, I've been a fan of sexy train scenes. So it didn't take me long to decide to write a smoking hot short story about a man, a woman, and a steamy train ride for my holiday blog serial series beginning on my site tomorrow.
Grab your ticket and board the sexy train! Here's a little sneak-peek excerpt from
The Train Ride
, a five part holiday free read blog serial: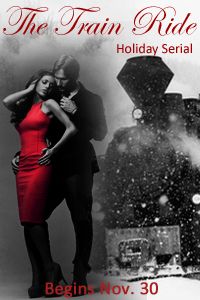 The racing train matched the uptick of his heartbeat as she walked up the aisle, her eyes never wavered from his. She continued her slow procession to the back of the train until she was directly next to his row.

"Is that seat taken?" she asked and nodded her head once to the unoccupied seat to his right.

"I don't believe it is," he said after clearing his throat.

He detected a slight smile from her full lips as she swung the leather briefcase that was hanging from her arm up and slid it into the overhead compartment. A wave of heat hit his cheek and his eyes flicked to the side to appreciate the strip of warm skin peeking from the top of her skirt's waistband and the bottom of her untucked blouse as she stretched to adjust her stowed case.

A deep inhale was rewarded by the heady combination of lavender mixed with cinnamon.

"May I?" she whispered.

The breathy request pulled at the muscles in his stomach. He carefully folded the newspaper in his hand and tucked it into the seat in front of him. His gaze blazed a trail up her body as he stood. She squared her shoulders remained within an intimate distance while he stepped around her body to allow her access into the row.
Want more of
The Train Ride
? Join me on my blog every Friday from November 30th through December 28th for a wild ride.
*****************************
About the Author